Everest Three Passes Trek





Based on
3 Reviews
Trip Price
US$ 2400
US$ 2150 Per Person
Group Discounts

1 Pax.
US$ 2150 PP
2-4 Pax.
US$ 2100 PP
5-7 Pax.
US$ 2000 PP
8-10 Pax.
US$ 1900 PP
11-14 Pax.
US$ 1850 PP
Over 15 Pax.
US$ 1700 PP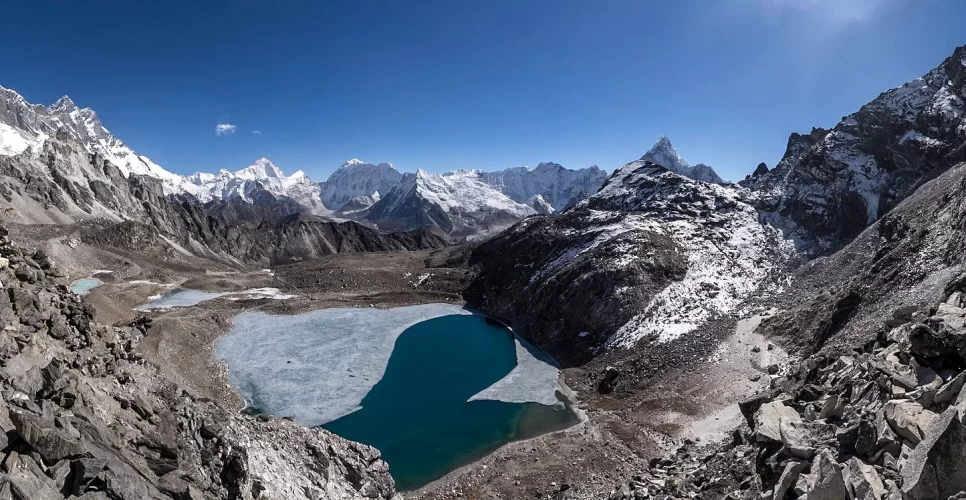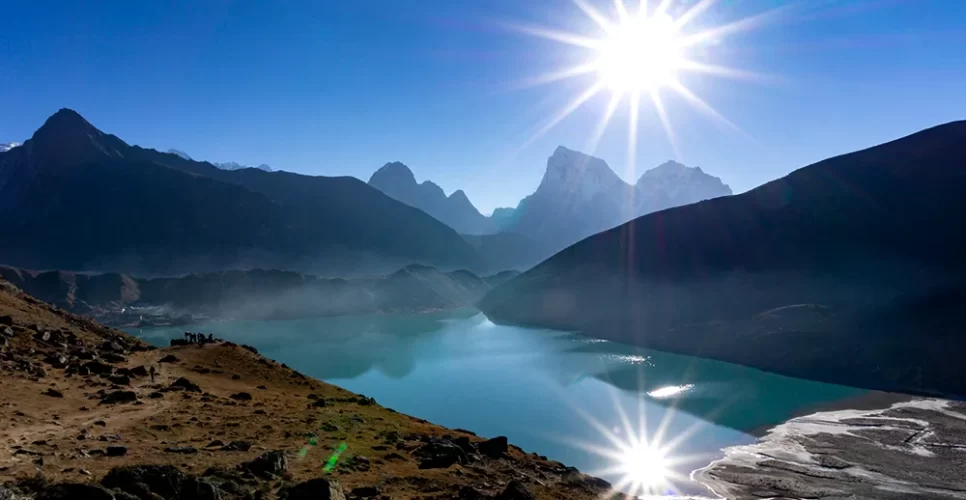 Trip Highlights of Everest Three Passes Trek
The Everest three passes trek is different from the other treks because of the following prospects:
Three passes trek via Renjo La, Cho-La, and Kongma La pass
Rest day in Namche Bazaar, known as the Chamonix of Nepal
Everest Base Camp tour
Buddhist monasteries in Thame, Pangpoche, and Tengboche
Ascent of Gokyo Ri and Kalar Patthar
Rest day and periodic acclimatization
View of Mount Everest, Makalu, Island Peak, Lhotse Shar, Kali Himal and Baruntse
Excursion of Kathmandu
Overview of Everest Three Passes Trek
Everest three passes trek, as the name indicates, takes you across three amazing mountain passes in Sagarmatha National Park. Everest three passes trek gives you an opportunity to see other very tall and impressive mountains beside Mount Everest. And quite frankly, these mountains dwarf Everest when it comes to beauty.
In the Everest three passes trek, you will walk along the dreamlike Himalayan mountain scenery to Lukla and start your tour right in the heart of the Everest hiking region.
You hike through spectacular landscapes to Namche Bazaar, the center of the Sherpa culture, and cross three passes to the base camp of the largest summit in the world. The climbing of Kala Patthar and the crossing of three 5000 meters passes offer fantastic views.
It all adds up to a beautiful tour that lasts almost three weeks and is undoubtedly one of the most impressive treks in the world, on which you are spoiled with an abundance of changing views.
The Everest three passes trek is also called Everest High Passes or King's Road on Everest. The track is also impressive regarding altitude difference, kilometers and calories burned. But quite light in the sense that you don't have to spend time and weight on camping and lugging food with you.
Everywhere within the daytime passage, there are guesthouses. The technical difficulty, though it is defined hard, is relatively easy, allowing you to pass it with limited equipment in the form of good trekking shoes and poles.
Know more about Everest Three Passes
The three passes included in this trek are Renjo La (5360m), Cho La (5420m), and Kongma La (5550m).
You reach the Renjo La pass as you head North from Namche Bazaar and cross the small town of Thame, known for its beautiful monastery. The air is pretty thin, but you will be rewarded with a great view of the mountains and prayer flags flapping in the wind to complete the picture.
The tour continues to Gokyo past the mighty Ngozumpa Glacier, which is fed by the 8188 m Cho Oyo. From the 5,330 m high Gokyo Ri panoramic mountain, you can enjoy the dream view of Mt. Everest, Lhotse, and Cho Oyu.
At the Cho-La Pass, you will be rewarded with the view of the Makalu looming in the distance and the impressive mountain of the 6,372 m high Arakam Tse.
After turning left into the throne room of the Himalayas and after a short effort, you are standing on the viewing platform of Kala Patthar. The third stroke follows with the crossing of the Kongma La Pass, and you are already in the Imja Khola Valley. The breathtaking, almost four thousand meters high Lhotse Wall almost takes your breath away. Behind are mountains such as Island Peak, Lhotse Shar, Kali Himal, and Baruntse.
You can go it both clockwise and counterclockwise. But it is not desirable to go clockwise due to various circumstances.
Itinerary of Everest Three Passes Trek
Day 1 Welcome to Kathmandu
Our team will warmly greet you at Tribhuvan International Airport and accompany you to your hotel. We will orient you about the three passes tour and introduce you to our team.
You will utilize the rest of the day in your hotel or exploring the city.
Car 30 minutes
Accommodation 3 Star Hotel
Meals Dinner
Altitude 1300m
Day 2 Explore Kathmandu
Today, you will spend the day exploring the ancient and modern Kathmandu valley. You can visit Pashupatinath temple, Swayambhunath, Patan, and Bhaktapur. Overnight stay at your hotel in Kathmandu.
Day 3 Phakding 2,610 m 3 hours
You will begin your day with a morning flight to Lukla. You can deposit extra luggage in your hotel in Kathmandu. Our team awaits you in Lukla, from where you will start your hike to Phakding.
You will hike down to the Dudh-Koshi River via the village of Chaurikharka. It goes along the path following the river, passing several small villages like Chheplung until you reach Phakding.
The rest of the day, you can rest. If you want, you can also visit the small monastery in Phakding.
Overnight stay at the lodge with Meals: Breakfast/Lunch/Dinner provided.
Day 4 Namche Bazaar 3,440 m 5.5 hours
Today, you will continue to follow the Dudh-Koshi River upstream, crossing it on several suspension bridges. You will pass many small Sherpa villages and experience the everyday life of the mountain dwellers.
After a lunch break in the village of Monjo, you will hike up to Namche Bazaar. On the way, you can already enjoy the first splendid views of massive mountains like Thamserku, Kangtega, and Mount Everest.
After 5.5 hrs of trekking, you will arrive in Namche Bazaar, the most famous mountaineering village and administrative center in the Everest range.
You will spend the night in the lodge at Namche Bazaar.
Day 5 Namche Bazaar 3,440 m (Rest day)
Today, you will take small excursions in the area for better altitude adjustment, which is absolutely necessary. Here it is worth taking a walk to the villages of Khunde and Khumjung for acclimatization, with great views of Ama Dablam, Thamserku, Everest, and Lhotse.
What is attractive is the green vegetation in the foreground, which is quite divergent from the barren brown mountain universe that you will drown yourself in over the next few days.
You can stay overnight in Namche Bazar again. The lodges are beautiful, and the food is excellent and plentiful.
Day 6 Tengboche 3,870 m 4 hours
Today you will continue your trek to Tengboche, which is short, about 4 hours after breakfast. You can visit the beautiful Tengboche monastery. The trek is worth your visit, and the views are unbeatable. The small detour helps with acclimatization for the next few days.
Day 7 Dingboche 4,410 m 6 hours
Get a good night's sleep, and have a leisurely and plentiful breakfast for the day. Then begin your hike to Dingboche, a small village known for its stone-walled agricultural fields and highland pastures.
You will rest today in one of the comfortable lodges in Dingboche.
Day 8 Dingboche 4,410 m (Rest day)
You can utilize this day climbing the Nangkartshang Peak, one of the final mountains, to have a great view of Cholatse, Taboche, Ama Dablam, and Kangtega impress.
Return to Dingboche lodging and relax for the next day's hike.
Day 9 Chukhung 4,730 m 3 hours
As the altitude increases, the stages become shorter. Acclimatization is the top priority here. Take time on your pace, take plenty of breaks and slowly make your way toward Chukung. You need the strength you can gather for the first big pass, the Kongma La.
You will spend the night in the cozy lodge in the village.
Day 10 Chukhung 4,730 m (Rest day)
Rest and acclimatization are vital so you can spend the day detouring the small village of Chukung. Or if you have the n=mood and energy, opt to climb Chukung Ri.
It is a small viewing peak from which you will have the first good view of the Himalayan range. Take a thermos of tea with you and enjoy the view.
Return to the lodge and take a good night's rest.
Day 11: Lobuche (via Kongma La, 5,535 m) 4,940 m 6 hours
Today is the big day as you will cross the first big pass Kongma La. From Kongma La, you have a great view of Everest, Lhotse, and the surrounding mountains. But you will also have this view from other vantage points, so if it doesn't work today, it's okay.
After six hours, you will reach Lobuche, where you will stay overnight in one of its comfortable lodges.
Day 12: Gorak Shep (via EBC, 5,380 m) 5,164 m 7.5 hours
We have planned a trip to Everest Base Camp for today. You can take it slow; the path is pretty easy. After approximately 7 to 8 hours of hiking, you will reach the EBC. You can take a photograph of Mount Everest in the setting sun.
After spending some time, you will trek to Gorak Shep, the highest permanently inhabited settlement in the Himalayas.
The famous vantage point above Gorak Shep is actually a heap of rubble at the arch of Pumori. The opposite is seen like a needle like pyramid of Nuptse in profile. And to its left side is a vast dark pyramid, broad and mighty, the summit of which surpasses Nuptse by a kilometer: Mount Everest.
You will rest the night in one of the lodges in Gorakshep.
Day 13: Lobuche (via Kala Patthar, 5,545 m) 4,940 m 5 hours
If you get up early this morning, you can be at Kala Patthar for sunrise. Bring a flashlight or headlamp, as the ascent starts in the dark. A great motive for photos is the sunrise behind the Himalaya Range.
You might see an expedition team at work if you're lucky. Nestled between the Khumbu Icefall, Pumori, and Nuptse, you can linger here before heading back to Lobuche.
You will then spend the rest of the day in the pleasant warmth of the stove and a tasty meal.
Day 14: Dzonglha 4,200 m 3 hours
Today you will hike for 3 hours to reach Dzonglha, the entrance to Cho La pass. The view opens here os Ama Dablam and the north face of Cholatse, which appear like two huge pyramids.
Spend the day preparing for the next vital day as you cross the next pass of this trip: Cho La.
Day 15 Gokyo (via Cho La pass, 5,420 m) 4,750 m 8 hours
The second major pass Cho La is between Dzonglha and Gokyo. There is no shortcut here, and the path can be difficult depending on the weather. As a rule, the narrow path leads past a mountain edge over icy scree.
Be careful today: you need mindfulness and time to intersect the pass safely. Once you reach the pass' top, it's all downhill to Dragnag. The descent takes a maximum of two hours.
You will then continue your tour to Gokyo, where you will retire for the night at the teahouse.
Day 16 Gokyo (visit to Gokyo Ri, 5,330 m) 4,750 m (Rest day)
Today you have time for small excursions in Gokyo. You can take a trip in the direction of Gokyo Ri. The sunset in front of the enormous glacier is beautiful.
The trail takes you along the Dudh Pokhari Lake and then moderately steep over gravel paths and switchbacks to the summit (approx. 2-3 hours). You are welcomed here by the prayer flags flapping in the wind and a unique view of Mount Everest. The Cho Oyu also seems close enough to touch.
You should head back to your lodge and enjoy the warm stove in the evening. If you are interested, you can take good pictures of the starry sky after sunset, as there is hardly any artificial light that could disturb the view. Bring a warm jacket; it can get really cold at night.
Day 17: Lungde (via Renjo La, 5,340 m) 6 hours
Today, you will start very early and hike to Renjo La Pass very slowly and steadily. The path is partly moderately steep and exposed. Short sections of snow are expected in places that do not pose a major problem if you are sure-footed.
After about 6 hours of walking, you arrive at the pinnacle of the pass and have a stunning view down into the Gokyo Valley, across to Mt. Everest, Cho Oyu, and the peripheral mountain giants.
After resting and absorbing the beauty at the top of the pass, move down to walk through the ancient business route between Tibet and Nepal. After about 4-5 hours, you will reach the small village of Lungde.
Day 18: Thame 3,800 m 2.5 hours
Today you will hike to the small village of Thame. Shortly after the ascent from the valley basin, you will encounter the fascinating summit pyramid of the Ama Dablam. You then continue through a beautiful coniferous forest, cross a raging stream, pass via the villages of Phurte and Thamo, and after a short climb, you reach Thame.
In the afternoon, you will visit the small monastery (Thame Gompa), which is about 100 m above the town and inspired by a tremendous view of the mountains. Here you can still see some of the oldest Buddhist documents from this region.
You will spend the day and night in all the comforts of civilization: cakes, coffee, and delicious food.
Day 19 Namche Bazaar 3,440 m 3 hours
Today is the end of your adventurous trip, and return to the civilization of Namche Bazaar. Here you can rest, visit the market or enjoy a delicious coffee. Alternatively, you can check out the Sherpa Museum.
Day 20 Phakding 2,610 m 4 hours
Your tour is almost over; once again, you will pass through super beautiful landscapes inhabited by warm-hearted people. You will trek further downstream on a slightly longer trekking day to Phakding.
Day 21 Lukla 2,850 m 2.5 hours
From Phakding, you will walk to the village of Lukla. The path is easy, and many lodges along the way invite you to take a little break. Take your time and enjoy the last day of trekking.
Day 22 Depart Kathmandu
If everything goes well and the weather cooperates, you will return to Kathmandu in the morning. A beautiful hotel with all the comforts of civilization is waiting for you. In the following days, you can explore Kathmandu and the Kathmandu Valley. In Kathmandu, there are taxis at every attraction, so organizing a sightseeing tour on your own is not a problem. You can also book a sightseeing tour with us.
Includes/Excludes
What's Included?
Airport pickups and drops in a private vehicle
Bed and Breakfast in a three-star category hotel in Kathmandu
Kathmandu – Lukla – Kathmandu flight tickets
Full-day guided sightseeing in a private vehicle
All entrance fees during sightseeing and trekking
An experienced English or other Language speaking guide and one assistant guide for more than five trekkers
One porter for two trekkers
Guide, porter, and necessary staff salaries, insurance, accommodation and food, and airfares if necessary
Everest Three Passes Trek Permit and TIMS
First Aid Medical Kit or essential medicine
Seasonal fruits during the trek
Farewell dinner
In the worst case, search and rescue service arrangement
All applicable government and local taxes
What's Excluded?
Nepalese visa fee and International airfares
The excess weight of luggage charge(s) in the flight
Extra Hotel accommodation, Lunch, and Dinner in Kathmandu because of an early arrival in Nepal or late departure from Nepal before return from Everest Three Passes Trek.
Travel and rescue insurance for trekkers only.
Personal expenses (phone calls, laundry, soft or hard beverages, recharge the battery, bottled/boiled water, extra porters, hot shower, a pot of tea, etc.) during trekking
Tips and gratuities for guide(s), porter(s) and driver(s)
How to get there?
The Everest three passes trek is an alternative route to the classic Everest Base Camp route from where the conquering of the highest summit takes place. This trek is, however, different because it provides a radial exit in the middle of the route to the EBC. You can complete this trek clockwise or counterclockwise.
After you arrive in the capital, your genuine trek begins as you reach Phakding via Lukla. You will cross multiple suspension bridges, including the famous Edmund Hilary bridge, along the coast of the Dudh Koshi and Bhote Koshi rivers.
After a brief stay at Namche Bazaar, you will travel through the small Sherpa settlements of Tengboche, Dingboche, Chukhung, and Lobuche. Depending on the season of your tour, the pink rhododendron forests, birds chirping, and green vegetation with mind-boggling views of mountains will greet you.
You will also ascent the Kala Patthar and Gokyo Ri and take a short tour of Everest Base Camp as you pass along the three passes. The small Thame town will give you an opportunity to glance at the local culture and visit the famous Thame Monastery.
You will return following the same route from Namche Bazaar, Phakding, to Lukla.
You have to understand that this trip is on foot, except for a trip from Kathmandu to Lukla. You can take an internal flight to Lukla or hike to Lukla (depending on your liking). So we have planned this trip with sufficient rest and acclimatization days.
A typical Day in this trek
One of the benefits of this trek is the route you take. The route passes through the villages and paths, and you will always reach guest houses, lodges, or tea houses. So there's no need to camp or carry tents. The same goes for the food. All food is on track in the canteens of the guesthouses. So there is no need to carry anything.
After leaving Kathmandu, your actual hike begins from Lukla. Every day, starting early in the morning, you will walk for 4 to 6 hours on average. The ascent and descent of the track will cross many stupas, monasteries, mountains, villages, and forests along the Dudh Koshi river.
The total trip takes about three weeks, and because of the acclimatization, the stages are quite short, and the route is rich in views.
Each day is characterized by a few hours of hiking, with a brief break for lunch or snacks and refreshments. As you reach your day's target planned according to your itinerary, you will spend the day exploring the nearby towns or climbing short hills and peaks.
In the evening, you will have a comfortable room with a hot meal at your disposal. You will be greeted with opulent views of impressive mountains every morning. And every night, you can watch the starry sky in the absence of artificial city lights.
Trek Difficulty
Before embarking on this journey, you may search the internet regarding its difficulty, and you will mostly get the answer: the trek is technically demanding.
However, the Everest three passes are not technically challenging or demanding as suggested, as it doesn't involve the use of ropes or other technical equipment. You may have to climb short hills or peaks such as Kala Patthar or Gokyo Ri, but it can be skipped if that's what you desire.
There can be some steep slopes, but with sure footing, crossing these sections is relatively easy. So anyone who has already hiked the mountains and is in good physical and mental health can carry out this trek.
Although you should remember that you are in high altitudes, the weather can change dramatically, which can modify your itinerary, so you have to be prepared.
Among the three passes, Kongma La doesn't pose any complications. The weather may change suddenly in the other two passes (Cho La and Renjo La). It does not usually happen, but we must be aware of this possible eventuality.
Since the trek takes approximately three weeks, good acclimatization is also needed throughout the entire ascent. Thus, we have planned the itinerary with gradual ascension and days for acclimatization.
Additionally, we have a team of guides who are professionals in the mountains; they know the risks and how to make the appropriate decisions based on the safety of the hikers.
Undoubtedly, this is a five-star trek, where you will enjoy the proximity of the highest emblematic peaks at your fingertips, and you will have the real sensation of being on the roof of the world.
Best Time
Spring or autumn is the most favorable time to go on the Everest Three Passes Trek. From the last days of September to the end of May, the climate is dry, and the view of the landscape and mountains are terrific.
From September to November or until the end of December, it is not that cold, the sky is clear, and the mountains are clearly visible. March to June is also a good trek season, as the weather here is stable.
The low season in winter can also be worthwhile, as the region is relatively quiet at this time. However, frosty temperatures at night must be expected here.
Summer is accompanied by the monsoon period, which is mostly not recommended for Everest three passes trek. However, in the monsoon period, trekking has charm as you meet a few trekkers, the local people have more time, and nature is in full bloom.
Of course, the views of the peaks can be blocked by clouds, but a trek during the summer can still be very beautiful. The blossoming, the few trekkers on the route, and the pleasant encounters with people even on the otherwise crowded route during the classic periods are just some of the arguments that support a trek in the monsoon period.
In principle, it is possible to hike in the Everest three passes all year round, but certain sections may be temporarily closed due to weather conditions.
Meals and Accommodation
The route to Everest three passes is full of basic accommodations, known as lodges or tea houses. You will retire for the night in these mountain lodges where you can shower and order food. The rooms are usually double or triple.
The decor inside the room is simple, with beds. Sometimes, there can be bedside table, and a chair. The beds have mattresses, pillows, and linens. You have to share the toilet, shower and sink with other travelers.
Almost all lodges have electricity; you can recharge the batteries. You have to pay for the charging and WIFI as you gain height. In most cases, it is possible to take a hot shower for an additional fee. You can ask for a bucket of hot water with a ladle where there is no hot shower.
You can eat a meal in the lodge you are staying. The menu is usually a standard set of dishes. The basic ingredients of the dishes are rice, potatoes, or noodles. You can add fried vegetables, cheese, eggs, canned tuna, or meat.
A full meal in the morning and evening costs $5-10 per person. Fruits are usually absent from the menu. The higher the lodge is located, the food price will be higher and you will have less choice in food choices.
Drinking water from streams in Nepal is not recommended, as you can pick up an infection. Bottled drinking water is sold at lodges for $1-4 per liter. You can use water purification tablets for safe drinking water.
Safety and Security
Regarding safety and security during the Everest three Passes trek, you don't have to stress out. The trail is very secure, and we have a professional team of guides who will escort you throughout the trip.
They will take the appropriate decision and action when needed and ensure the ease of your trip.
Another aspect that makes this trip really secure and safe is there's no need to carry any specific technical equipment or material. You have to step on snow, but the difficulty depends on individuality. Some may easily walk with trail-running shoes, while others need boots and snow guards. Some poles can give you confidence if you have to walk on snow, but they are also optional.
Another condition that may worry you is altitude sickness, which can appear from 2,400 meters above sea level. You may suffer from severe headaches and general malaise. However, taking certain precautions will help you avoid this problem, such as:
Stay hydrated and drink 3 to 4 lt of water
Acclimatize appropriately as specified by your agency
Walk slowly and steadily
Carry Diamox (medicine for such sickness)
Avoid consuming alcohol, coffee, or soft drinks
Have garlic soup and ginger tea
As for unpredictable weather conditions, the authority is always on constant alert, and helicopter evacuation is prompt.
Travel Insurance
It is essential to take good insurance for this trip. It is not to scare you, but the possibilities of altitude sickness are very present, and the trekking paths are not easy. So you may have some injury or illness along the way, so travel insurance during Everest three passes trek becomes mandatory.
A good insurance policy is a guarantor of payment for qualified treatment in an emergency. Without an insurance contract, you will have to pay clinic bills yourself. Even one insured event during the trip can repeatedly cover the cost of the policy.
Ensure your insurance covers up to or more than a 5000 m barrier. On this trek, you will move up to Kala Patthar and Gokyo Ri and take a short excursion to Everest Base Camp. The weather can suddenly change in three passes, so helicopter evacuation may be necessary.
The insurance policy cost depends on the tourist's age, trip duration, place, and amount of insurance coverage. A minimum value of USD 10,000 is appropriate for this type of trek.
Most Asked Questions by Travellers
You can go on this trek if you are in optimum physical shape and mental health. It is always beneficial to pre-prepare your body for the long walks as it involves a lot of hiking in the snowy paths and forests. So before embarking on this trip, train your body by cycling, walking, or running for a few hours a day.
Ensure you also have basic training on trekking poles, axes, or crampons. It will be handy when you hike on steep mountain slopes.
There is no age limitation for this trek; however, because the trek involves a lot of walking and climbing, people from 16 or above can involve in this trek.
People from 60 to 70 years can also participate in this trek without any problem if they are in excellent health condition.
Yes, you require two permits for trekking in the Everest region: Everest National park permit, and Khumbu rural municipality permit.
The national park permit is provided at Monjo's park entrance gate or you can receive this permit from the Kathmandu office of Tourist service center. Approximately USD 25 per person is the fare for foreign citizens, and USD 12 to 13 is the fare for SAARC nationals.
The municipality permit must be obtained in Lukla at USD 16 to 18 per person.
Your tour agency will obtain both of these permits, so you don't have to stress about it.
Any high-altitude trek involves some degree of risk, but the trek to Everest three passes is planned with specific days for rest and acclimatization. Besides, our thoroughly trained and experienced guides will accompany you. So if you adhere to the planned itinerary and follow the guide's advice, you can complete this trek without any problems.
The Everest three passes trek is structured for those who have time and ambition to hike the three main gates of Sagarmatha namely Thame, Gokyo, and Chukhung. The three passes join the valleys on your path that is less frequented than other routes of Nepal.
You also can enjoy accommodation in lodges, allowing good rest after passing each stage. Plus, the trek usually doesn't require using ropes or any other technical equipment. So it is easier to carry out than the classic route to EBC.
The standard itinerary for the Everest three passes trek is three weeks; it is not recommended to do this trek faster than this. Since the trek includes hiking, and climbing, gaining height each passing day. You should have plenty of time to rest and acclimatize.
We provide 21 days of Everest three passes trek at the cost of USD 2100. the cost includes airport transportation, accommodation in the capital, food, and lodging along the track, Lukla flight, guide and porter cost, permit, first aid, and all government taxes. We can tailor your tour according to your time, budget and preference.
Yes, there is snow on the path! Though the thickness and density depend on the weather, expect to find snow all year round.
Yes, you can charge your electronic devices at the mountain lodge where you stay for the night. But they will charge from USD 1 to USD 2. as you ascend the height, the charge may be more expensive, up to USD 5. Some cafes on the way may allow you to charge your devices for free if you buy a drink or meal there.
It may surprise you, but yes, WIFI is available along the route to Everest three passes. However, the speed and connection may be slow due to geographical remoteness. And you have to pay for the WIFI services that can cost you from USD 1 to USD 5.
Reviews on Everest Three Passes Trek
4.8






Based on 3 Reviews
---
Axles Jules
Australia
awesome trip to ebc
tasdfasasdsdf
5





Excellent
Jeilen Gulten
London
this is amazing trip
tasd asdfasdfasf dfd
4.4





Good
Jix Hosesn
USA
Recommended Trip
df asdfa sfas dfasdfasdfs d
4.9





Very Good