Annapurna Base Camp (ABC) Trek
Trip Price
US$ 1299
US$ 1149 Per Person
We offer special group discounts, please contact us for the offers.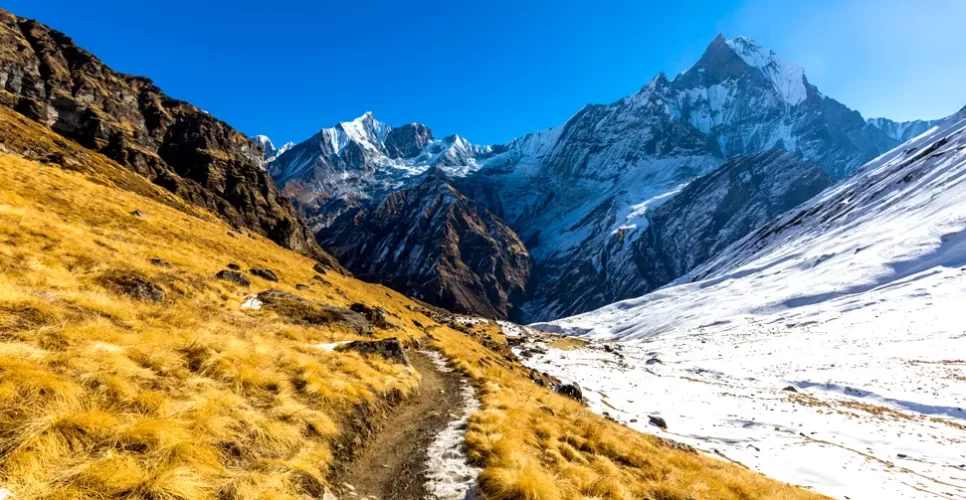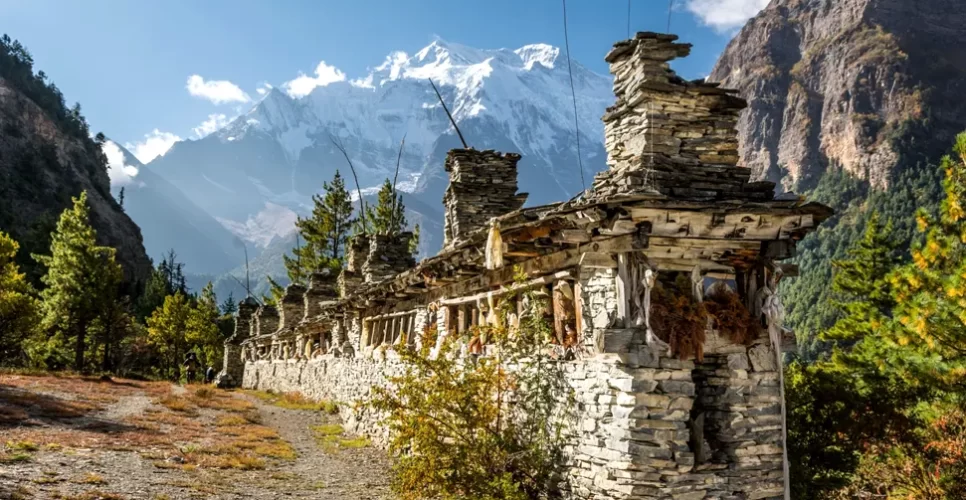 Overview of Annapurna Base Camp (ABC) Trek
The Annapurna Base Camp Trek with Peregrine Treks will provide an adventure you will remember for ages. ABC Trek is the premier terminus in Nepal, and we invite you to experience all its surprise elements on our 14-day trek, which makes for an unforgettable trip.
The ABC trek takes you to close proximity to some of the world's tallest mountains, including the Annapurna massif and its magnificent glaciers. You'll be encompassed by lush forests and yellow paddy fields along the way, adding to the glory. You will also be able to interact with locals and learn about their customs and heritage.
The mountains you will witness on the way are breathtaking, and if you are lucky enough to get a glimpse of the sunrise over Annapurna, it is sure to stay etched in your memory forever.
Overview of the Route to Annapurna Base Camp
The Annapurna Region hike is a well-known trekking pathway in Nepal that leads to the Annapurna massif's base camp at 4,130 meters. The path from Pokhara follows the Modi Khola river valley before ascending sharply to the alpine settlement of Ghorepani.
From here, the trail rises up to Tadapani and Chhomrong, where it splits. Then you go east to Deurali, then north to Annapurna Base Camp.
You will be able to explore conventional Gurung villages along this route and relish stunning views of the Annapurna range as well as a glimpse into the culture of the region. The trek usually takes around 14 days, depending on your pace and the weather.
Itinerary of Annapurna Base Camp (ABC) Trek
Day 01: Land at Tribhuvan International Airport in Kathmandu
At the Kathmandu Airport Terminal, our agent will be ready to transport you to the hotel we have reserved. Spend the remainder of the day touring the city and Thamel.
Our crew will assist you in getting the required permits and gathering all the essential gear to prepare you for the expedition. The hiking guide will then be introduced, and you may go over the specifics of the expedition. We'll cheer you up with a welcome supper in the evening.
Car 30 minutes
Accommodation 3-Star Hotel
Meals Dinner
Altitude 1437m.
Day 02: Driving from Kathmandu to Pokhara
Early the following day, our tour bus departs Kathmandu and makes its way to Pokhara. We travel the roads cut into the Trishuli and Marshyndi rivers' banks and hillsides.
This spectacular journey of approximately six hours is broken up with two stops for breakfast and lunch. During the drive, we are treated to beautiful views of the snow-capped Himalayan mountains, rolling green hills, and lush forest valleys.
The air is fresh, and the scenery is breathtaking. By late afternoon, we arrive in Pokhara, where we can relax and explore this picturesque city. It's a great way to end a wonderful day of sightseeing and travel.
Car 6 to 7 hours
Accommodation 3-Star Hotel
Meals Breakfast.
Altitude 822m.
Day 03: Drive from Pokhara to Nayapul and trek to Tikhe Dhunga ( 9 Kilometers trek)
We will go to Nayapul after breakfast, which will take approximately an hour and a half. We are treated to stunning vistas of woods and quaint villages as we travel over winding roads in Nepal's high areas. The Annapurna mountains in the background offer a gorgeous backdrop for our adventure.
Upon arriving in Nayapul, we start our trek on foot. The first few hours are relatively easy, with gentle inclines and mostly flat terrain. As we continue, however, the path becomes steeper and more challenging.
By late afternoon, we will arrive in the village of Tike Dhunga and make our way to a local tea house. We will call off the day here to continue our trek with renewed energy and excitement for what lies ahead.
Multiple 1 hour drive and 4 to 5 hours trek
Accommodation Guest House or Tea House
Meals BF / Lunch/ Dinner
Altitude 1480m.
Day 04: Trek Tikhe Dhunga to Ghorepani (13 Kilometers )
We'll say our goodbyes to Tike Dhnge and begin our journey to Ulleri as the sun rises. Ulleri offers views of the Himalayan massifs nearby on a clear day, including Mount Annapurna South and Mount Hiunchuli.
After a short break, we will resume our five to six-hour walk toward Ghorepani. After traversing a rhododendron forest and ascending 30 minutes of steep stone steps, we arrive at Ghorepani.
It is one of the best tourist spots with cafes, restaurants, bars with billiard rooms, and gift shops. The village has a lovely atmosphere and is tucked away in the middle of a lovely forest.
Walking 6 to 7 hours
Accommodation Guest House or Tea House
Meals BF / Lunch/ Dinner
Altitude 2860m
Day 05: Hike to Poonhill before continuing on to Tadapani ( 9 Kilometers )
Climbing Poon Hill first thing in the morning is difficult for many people, but it is well worth it. During the hour-and-a-half ascent uphill, you could see the sun rise over the beautiful Dhaulagiri and Annapurna peaks.
We leave Ghorepani and start to walk to Tadapani; on our way encountering a forest of Rhododendrons, all while still being in the shadow of Mt. Annapurna, Mt. Dhaulagiri, and Mt. Machhapuchhre.
Walking 6 to 7 hours
Accommodation Guest House or Tea House
Meals BF/ Lunch / Dinner
Altitude 2610m.
Day 06: Trek from Tadapani to the hamlet of Chomrong (7.6 Kilometers )
After breakfast, we'll trek for three hours this morning to arrive at Gurjung. The first two hours are a winding and steep descent, but things get more level after crossing a suspension bridge over the Kimrong Khola, though there is a lot of incline at the end.
Now at Gurjung, we will have lunch. After we've finished eating, we'll spend around an hour hiking before finally reaching Chomromg village.
This village is famous for pizzas, with Annapurna South and Hiunchuli as the backdrop. It can be reached after a steep climb for the first 30 minutes, followed by a relatively flat ride for the next 30 minutes.
Walking 5 to 6 hours
Accommodation Guest House or Tea House
Meals BF / Lunch / Dinner
Altitude 2150m.
Day 07: Trek From Chomrong to Dovan ( 8.6 Kilometers )
Today, the hike starts with a very steep descent of about forty minutes of steep stairs. Upon passing through Chomrong-Khola, the hike steeply heads up for another hour or so until it reaches the small town of Sinuwa.
After eating lunch, we will hike for a little over three hours to the village of Dovan. Along the way, there are lots of hills to go up and down for about an hour.
Walking 5 to 6 hours
Accommodation Guest House or Tea House
Meals BF / Lunch / Dinner
Altitude 2500m.
Day 08: Dovan to Deurali Trek ( 7.7 Kilometers )
Our journey today will take us toward Deurali. We will encounter a gradual incline for the first 30 minutes, followed by a steep climb for the next 40 minutes. We pass through a large waterfall as we approach our destination.
Here we have the Deurali waterfall, it's created from the mountain Mount Hiunchuli. Formations on all sides surround the village of Deurali, and one can only catch a glimpse of the top of Mount Machhapuchhre.
Walking 4 to 5 hours
Accommodation Guest House or Tea House
Meals BF / Lunch / Dinner
Altitude 3200m.
Day 09: Hike through Machhapuchhre Base Camp from Deurali to Annapurna Base Camp ( 8 Kilometers )
In the morning, we hike for about two hours to the Machhapuchhre Base Camp (MBC), which is characterized by thinning vegetation becoming rather arid towards the end.
A short break at MBC will leave you speechless when you see Mt Machhapuchhre and Annapurna South from another vantage point.
We're going to resume walking after a break. Almost an hour of ascending later, we'll be greeted by the looming frame of Annapurna I. The next hour loses some clarity, not as much as before we arrived at the base camp.
We can then admire Annapurna III, Machhapucchre, and Hiunchuli.
Walking 4 to 5 hours
Accommodation Guest House or Tea House
Meals BF/ Lunch / Dinner
Altitude 4130m.
Day 10: Return to Bamboo via Annapurna Base Camp ( 17 Kilometers )
A sunrise view of Annapurna South and Annapurna I on the first day when our return journey begins the morning of our first day back. After breakfast, we drive back to Deurali for a tea break, followed by lunch at Himalaya Hotel. Bamboo Village is our overnight stop today.
Walking 6 to 7 hours
Accommodation Guest House or Tea House
Meals BF / Lunch / Dinner
Altitude 2310m.
Day 11: Visit Jhinu Danda Hot Spring after leaving Bamboo ( 12 Kilometers )
Starting with an enjoyable meal in Sinuwa and a drink in Chhomrong, respectively, we experience an easier and less tense descent to Jhinu Danda. And in the end, our destination will be comfortable and relaxing Jhinu Danda Hot Springs.
Walking 4 to 5 hours
Accommodation Guest House or Tea House
Meals BF / Lunch / Dinner
Altitude 1740m
Day 12: Jhinu Danda to Pokhara retreat
After breakfast, we will take a three-hour walk to Siway. The walk will include 20 minutes of steep descents and gradual uphills from that point.
Several waterfalls and natural bee colonies may be seen along the path. We will drive for two hours to Pokhara following lunch in Siway.
Multiple 2 to 3 hours
Accommodation 3-Star Hotel
Meals BF / Lunch
Altitude 822m.
Day 13: Ride toward Kathmandu from Pokhara
In the morning, tour the Phewa Lake region in Pokhara before driving to Kathmandu for a 6–7-hour ride. Visit the Old Bazaar, its Shiva Temple, and a few other tourist attractions in Pokhara before heading to Kathmandu.
Car 6 to 7 hours
Accommodation 3-Star Hotel
Meals BF / Culture Dinner
Altitude 1437m.
Day 14: Farewell and Departure
Today is your final day in Kathmandu; we will assist you with your flight back from Nepal. Our team will escort you to the airport, ensuring your journey is comfortable and safe. We hope that your trip to Annapurna has been enjoyable and that you will come back to visit us again in the future.
Car 30 Minutes
Meals Breakfast
Includes/Excludes
What's Included?
All ground transportation with private vehicle.
Welcome dinner and farewell Nepali culture dinner.
Hotel accommodation 3-Star category hotel in Kathmandu and Pokhara with breakfast.
Full board meals with tea/coffee (Breakfast, Lunch and Dinner) during the trek.
Best available Lodge to lodge accommodation during the trek.
One highly experienced, helpful and friendly guide, porter (1 porter for 2 people) and their food.
Annapurna Conservation Area Project Permit (ACAP) and TIMS.
All entrance fee.
A comprehensive medical kit
All applicable government and local taxes.
What's Excluded?
Airfare (Domestic and International) and Nepalese visa fee.
Travel Insurance.
Personal expenses (like telephone calls, internet, laundry, soft drinks, beers, and any alcoholic beverages.)
Extra hotel accommodation in Kathmandu and Pokhara.
Lunch and Dinner in Kathmandu and Pokhara.
Tips for the guide, porter & driver. (tipping is expected).
Emergency rescue.
Why should you undertake the Annapurna Base Camp Trek (ABC)?
This trek offers beautiful scenery of the Himalayan mountains and provides some insight into the locals' culture and way of life. The path winds through dense vegetation, rural areas, and terraced farmland, with views of Mount Annapurna on clear days.
You can also go to the nearby markets, purchase handcrafted souvenirs, and sample the delectable local cuisine. There are ample options for those seeking adventure to go hiking, climbing, and even paragliding.
And, of course, the hiking would be incomplete without a few nights in the mountains to relax and take in the scenery. If you're looking for a totally unique experience, the Annapurna Base Camp Trek is well worth considering.
Why trek to ABC with us?
You can have the following benefits while trekking to Annapurna Base Camp with us:
We only reserve rooms at reputable hotels in Pokhara and Kathmandu that offer complimentary breakfast, spotless rooms, and inside bathrooms.
We make an effort to stay for the night in the finest and most impressive lodges on the route.
Since we are not in a rush, there will be plenty of time for everyone to take numerous photos and take in the scenery.
We will witness the sunrise in the most picturesque locations, such as Poon Hill, Tadapani, and Annapurna base camp.
A real treat is waiting for us at the end of the path: a soak in Jhinu Danda hot springs.
Tour Pokhara's top sights: the Stupa of Peace, Davis Falls, the Shiva Cave, and Phewa Lake.
Reviews on Annapurna Base Camp (ABC) Trek
Be first to post a review in this trip.