We offer special group discounts, please contact us for the offers.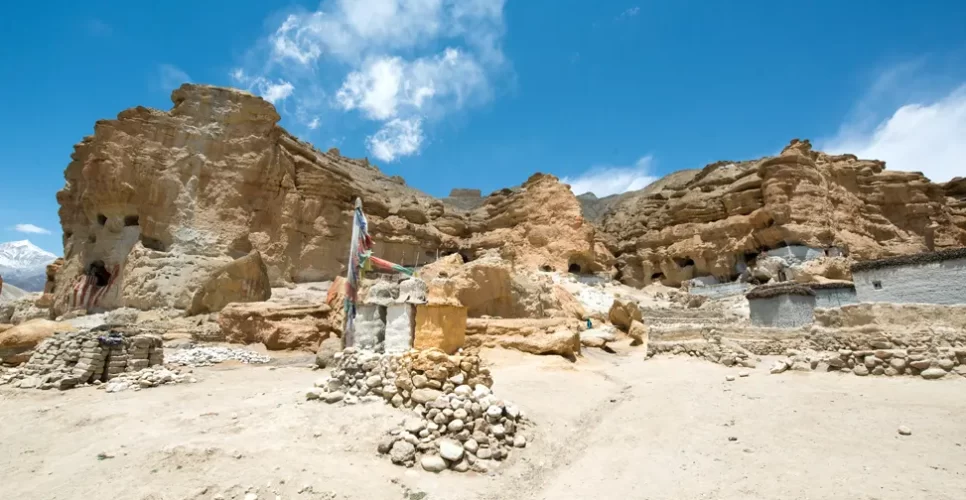 Trip Highlights of Upper Mustang Trek
Feel the atmosphere across the desert of Nepal during your Upper Mustang Trekking.
Discover one of the most curious kingdoms in Lo-Mangthan and Kagbeni.
Worship Muktinath, which is considered the home of "Lord Shiva."
Embrace the local culture of Sherpas and Tibetian people around the Gandaki region.
Witness some of the best mountain ranges in the world in Annapurna and Dhaulagiri.
Shop local produce items and fruits such as Apple of Jomsom.
Visit 100-year-old Gumbas, temples, and monasteries on the road to Mustang.
Overview of Upper Mustang Trek
Upper Mustang Trekking is among the most popular trekking routes from Nepal. It goes from Kaligandaki, Kagbeni, Jomsom, and Muktinath temple.Upper Mustang is regarded as "The Forbidden Kingdom" since it was restricted to access before.
It is considered one of the most challenging and sophisticated treks, which is why trekking around Upper Mustang is a scarce opportunity. Before 1992 only local people were allowed to walk the area, but the government lifted restrictions to the public after 1992.
People worldwide will look into Tibetan culture and traditions saved by the region's local people.
There are many attractions during the trip to Upper Mustang, where you can get a view of rare waterfalls, sky caves, red brick walls, and even 100-year-old Gumbas.
You will go from the rain shadow area of Mustang, regarded as the "Desert of Nepal," to one of the prestigious towns in Lo-Mangthan, regarded high as a 14th-century town.
The journey of Upper Mustang trekking will begin from Pokhara, Kagbeni, Lo-Mangthan, Jomsom, Muktinath, Syangboche, and other iconic places that are sure to take your breath away.
You will also be mesmerized by the architecture of the settlement and even the whole region as they are carved beautifully with sun-baked mud bricks and bright yellow or white stone that will dazzle your eyes.
After arriving at Jomsom airport, you will travel from the Kaligandakiriver till you reach the iconic town of Kagbeni. The beautiful sight will be in your company as you walk through canyons, hills, steeps, and green pastures until you reach many small towns such as Chele, Syangmoche, Charang, and finally, the beautiful settlement of Mustang.
Itinerary of Upper Mustang Trek
Day 01: Arrive at Tribhuwan International Airport
Today is the first day of Upper Mustang trekking, and you will arrive in Kathmandu via Tribhuwan International Airport. You will be welcomed and taken to your hotel, where you will check in and relax on your bed.
After resting for a short period, you can meet the local guide, get familiar with the city, and know the plan for additional days ahead.
Today will be a short day as you will have dinner in the hotel and stay overnight.
Day 02: Kathmandu Valley Sightseeing Tour
The second day of the Mustang trek begins with breakfast in the hotel and sightseeing in Kathmandu valley. There are plenty of attractions to watch in Kathmandu, such as Pashupatinath temple, BoudhanathStupa, and the national museum.
You can also visit Kathmandu Durbar Square, Patan Durbar Square, and Bhaktapur Durbar Square. They are of great importance to locals in the Kathmandu valley.
After sightseeing, you can meet your guide and discuss the plan ahead since tomorrow will be the first step of your Upper Mustang trekking as you head toward Pokhara.
Day 03: Kathmandu to Pokhara by drive
The third day of the trek begins with breakfast in Kathmandu. Then you will drive out to Pokhara, which will take up to 10 hours.
Kathmandu to Pokhara is one of the best routes to travel, as you can come across some of the best views of waterfalls, hills, valleys, and green pastures.
After reaching Pokhara, you will head towards the hotel on the lakeside. You can rest for a bit and start strolling around the lakeside, which is generally unique in the evening and nighttime.
After strolling for some time, you will return to the hotel and have dinner. You should get rest as tomorrow is another long flight and trek.
Day 04: From Pokhara fly to Jomsom& Trek to Kagbeni
Another day of Upper Mustang Trek starts with breakfast in Pokhara and then a flight from Pokhara to Jomsom. On this flight, you will see the true beauty of Nepalese landscapes and mountains as you witness the magnificent Dhaulagiri and Macchapucchre mountain ranges.
After a few hours of flight, you will land in Jomsom and immediately start trekking toward Kagbeni. The road is very flat and easy to travel, and it is almost 10 kilometers between them, so you will reach Kagbeni within 2-4 hours.
There are plenty of places for sightseeing in Kagbeni, mainly Gumbas, temples, and monasteries. You can also visit Nilgiri and Tukuche Peak to enjoy one of the best views in the world.
After reaching Kagbeni, you can rest in the guesthouse or stroll down the town, which is very pleasant in the evening. You will stay overnight at the Kagbeni hotel.
Day 05: Kagbeni to Chele
Another day of the Upper Mustang trek the day begins with breakfast in Kagbeni and then a trek toward Chele. The walk starts with the straight road ahead of Kagbeni through Kali Gandaki along the road toward Kalobir.
You will pass through luscious forests, temples, monasteries, and fantastic sky caves. Furthermore, you will pass through other small villages, such as Chhusang and Tangbe.
The closer you arrive to Chele, the road becomes tough, with eroded cliffs, gravel roads, and big rocks-filled steep climbs. In the evening, you will reach Chele and stay overnight.
Day 06: Chele to Geling
One of the most challenging treks awaits you on the sixth day of the Upper Mustang Trekking. You will move ahead from Darjori La Pass and Taklam La Pass.
Despite being one of the most strenuous treks, the view and incredible experience will keep your heart pumping, and you will keep moving forward. You will drive through some more beautiful villages, Samar and Ghyakar, and can Syangboche.
After a short break, you will move ahead of Syangboche and start claiming a hill till you reach another beautiful village in Geling.
Day 07: Geling to Charang
On another day of Upper Mustang Trekking, you will be moving ahead of Geling through Tamagaon as you reach plenty of small villages, Jhaite, Chhunaggar, and Ghuling, which are pretty beautiful.
You will cross two passes, namely the Choya La pass and Nyi La, Ghemi la, and move forward. You can rest in Nyi La pass and soak the stunning view of Mount Dhaulagiri and Annapurna.
The landscape looks even more mesmerizing, with the fields full of wheat, barley, and maize. You will then have to pass GhamiKholabridge and reach Choya La Pass at 3870m.
After two hours of trek, you will reach the beautiful village of Charang, where you can rest for a bit. Then you can visit many places in Charang, mainly Medival fort, Charang Monastery, and the beautiful town itself.
You will return to Charang and spend overnight.
Day 08: Charang to Lo - Manthang
You are getting closer to your destination and leave Charang. While moving ahead, you will descend downwards towards Charang Chu Canyon and climb some hills again.
The trek will be another memorable one, as the views are pretty stunning. Soon you will reach the Lo La Pass, where you can have a break and take some photos. Further down the line, you will arrive at Lo Manthang, another beautiful place to stay overnight.
Day 09: Exploration of NamgyalGompa and Tingkhar and return
You will stay this day in Lo-Mangthan, where you will explore some nearby places, mainly NamgyalGompa and Tingkhar. There are many unique places around Lo-Mangthan, including caves, monasteries, and some sacred chambers.
You will arrive in Lo-Mangthan to stay overnight in the same teahouse as yesterday.
Day 10: Lo-Manthang to Drakmar
It would be best if you left early from Lo-Manthang as you continue your Upper Mustang trekking to reach Drakmar. The trek is longer than other days, but the roads are accessible, and the views are very entertaining, so you will not get bored.
People from all around the world take time to wish in front of GharGompa as it is the symbol of good luck and blessings. You will also visit Samye monastery in Lhasa, and within no time, you will reach Drakmar, where you will stay overnight.
Day 11: Drakmar to Shyangmochen
Another day begins with another trek towards Upper Mustang. You will move ahead of Drakmar and ascend and descend several hills and valleys until you reach Chele.
You will then descend to Ghami village and trek ahead to Nyi La Pass. After a couple of treks, you will find the extraordinary place of Shyanmochen or Shyangboche. You will stay the night at Syangmochen as tomorrow is another arduous trek ahead.
Day 12: Shyangbochen to Chhusang
Day twelve of the Upper Mustang trekking begins from Shyangbochen, where you will move in downward trails. Since the path is mainly descending, you will cover more tracks quickly.
You will go through some fantastic hills, valleys, and mesmerizing waterfalls, and it will take up to six hours to reach another small village of Chusang.
The day will end as you stroll the local village of Chusang and stay the night in the town, as tomorrow you will trek towards Muktinath.
Day 13: Chusang to Muktinath
You will leave Chusang early in the morning and then start ascending a quite slippery snowy hill till you reach one of the most significant Hindu temples in Muktinath.
On the way towards Muktinath, you will trek along some of the best Himalayan views and come across a place with Shaligram, unique fossil stones worshipped by Hindus as "Lord Vishnu."
Alongside Muktinath, you will also find several small BuddistMonastries and Gumbas that compliments the serene environment.
You may have to take a permit to click photos or visit inside the temple, so follow the guidance of your local guide.
Day 14: Muktinath to Jomsom
The next dayis the central part of the Upper Mustang trekking. You will travel from Muktinath toward Jomsom on a jeep, as the road is quite challenging for a simple car ride.
The trip will be exhausting due to up and down gravel-filled roads, but the serene environment makes this trip very enjoyable.
It will take form 7-8 hours from Muktinath to Jomsom. Once you reach Jomsom, you can check into the beautiful hotel and start strolling the local city, which is so pure and peaceful.
Day 15: Jomsom to Pokhara
You will leave Jomsom in the morning in the private vehicle and head back to Pokhara. The way is relatively easy and regular, with green pastures.
You will arrive in Pokhara within 10 hours; after that, you can rest or take a stroll around the lakeside. If you have time, you can also go shopping since you can take tons of unique presents from Pokhara.
Day 16: Pokhara to Kathmandu by drive
On the second last day of the Mustang trek, you will drive back to Kathmandu from Pokhara. The road is quite comfy, so you can either sleep on the entire journey or soak in the natural beauty on one of the best roads in the country.
It will take up to 10 hours to arrive in Kathmandu, and you can now check-in at the hotel and have some rest. You will have a special dinner in the hotel in the evening.
Day 17: Departure
This is the final day of the Upper Mustang trekking. After having breakfast in the hotel, you will then check out from the hotel.
The private vehicle will take you to your airport and help you with all the services. We hope your Upper Mustang trekking was excellent and memorable for days to come.
We hope to see you again.
Includes/Excludes
We are updating the contents.
We are updating the contents.
Most Asked Questions by Travellers
The average day for the mustang trek is generally 17 days, based on your plan and itinerary. However, sometimes the trek days can be increased to even 30 days with plenty of side plans and can be completed within just 14 days.
Upper Mustang is slightly restricted to the tourist to preserve the tradition and culture of the local people. Before 1992 it was limited entirely to tourists.
Reviews on Upper Mustang Trek
Be first to post a review in this trip.