We offer special group discounts, please contact us for the offers.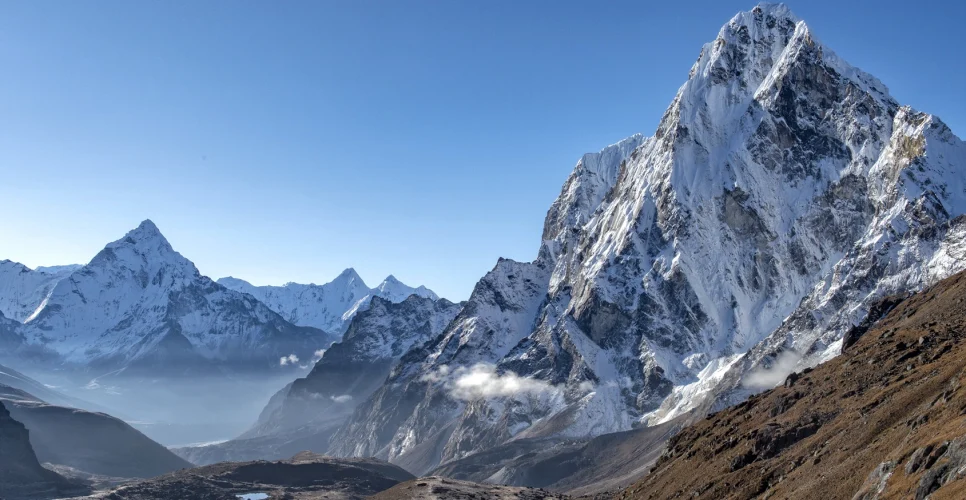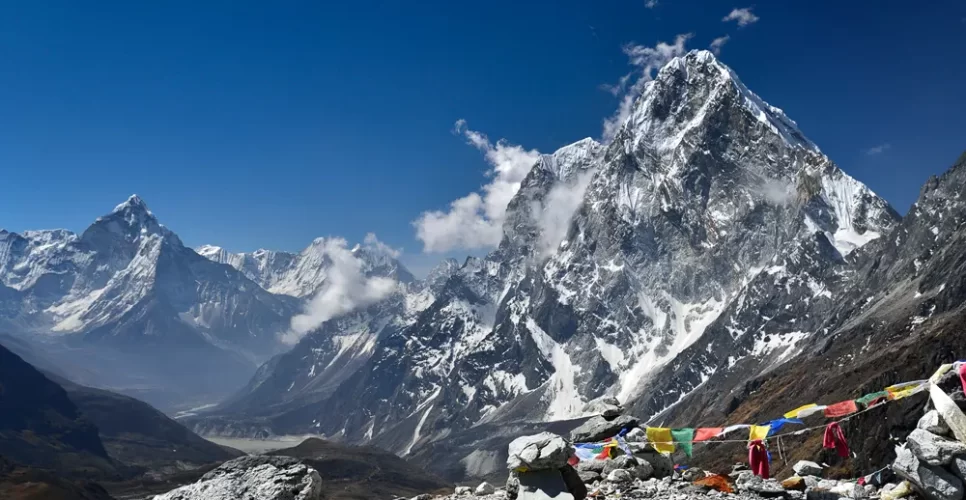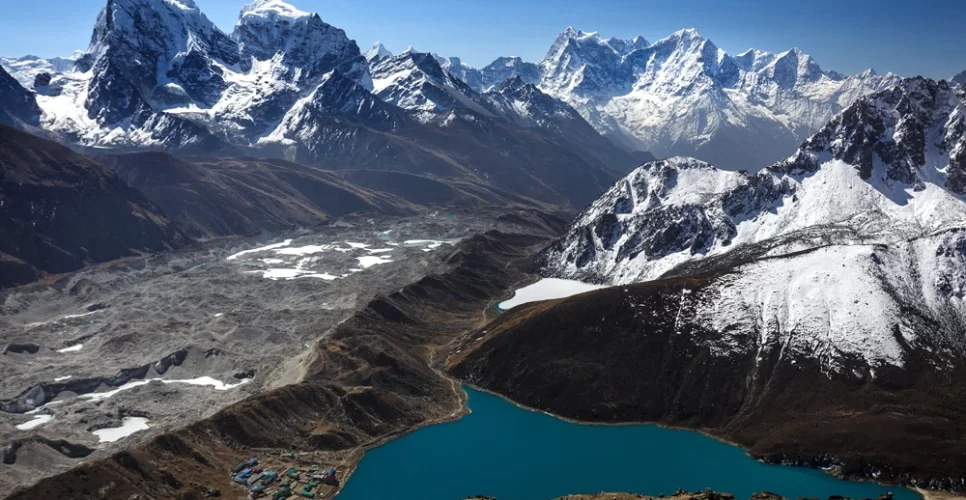 Trip Highlights of Gokyo Chola Pass Trek
Trekking with us to Gokyo Chola Pass with us will offer you an opportunity to:
Witness the majestic beauty of mountains like Everest, Nuptse, Ama Dablam, Lhotse, and Cho Oyu.
You'll also journey through the cultural Sherpa villages and explore their centuries-old traditions.
Survey the base camp of Mount Everest, the gigantic Himalaya on Earth, giving you a life-changing experience.
Admire the remarkable views of Gokyo Lakes and take on the challenge of ascending Gokyo Ri.
Reach Kala Patthar is seen as a mark of greatness and success among trekkers. Many endeavors to achieve this impressive feat, which is no small task.
Experience the itinerary that combines novelty and tradition.
Overview of Gokyo Chola Pass Trek
Venture into an unforgettable journey to Gokyo Chola Pass and delve into the Sagarmatha region's stunning beauty and the Sherpa people's unique culture. Not to forget, you can even take a look at Gokyo Lakes, one of its most eye-catching features.
The Gokyo Chola Pass hike is a great way to enjoy the captivating beauty of the Everest region. As you progress on this journey, you're also treated to mesmerizing views of Mt. Everest, Ama Dablam, and Cho Oyu.
Why the Gokyo Chola Pass Trek?
The Gokyo Chola Pass is one of the most gratifying treks in Nepal. This hike offers a once-in-a-lifetime experience as you witness spectacular views of snowcapped mountains, including Mount Everest. A journey to these heights will also allow you to explore the traditions and pristine beauty of the region.
Along this route, trekkers will pass through stunning landscapes, visit traditional villages, and experience various cultures.
With its stunning views, cultural richness, and challenge level, this trek is a must-do for any adventurous traveler looking for an unforgettable experience in Nepal!
Gokyo Chola Pass Trek trail
Get ready for a marvelous journey from Kathmandu all the way to Lukla. After that, you'll take a brief walk to Phakding and finally arrive at Namche Bazaar, the bustling capital of your Gokyo Chola Pass trekking experience!
When trekking from Namche to Tengboche, take in the gorgeous views along the Imja River. The enthralling Tengboche Monastery – also known as Dawa Choling Monastery, stands tall in this picturesque village. A must-see sight worth experiencing!
Once you make it to Dingboche, your next challenge is getting to Gorakshep. The road is pretty rough and rocky, making the trek difficult at an elevation of 5000m. With persistence and strong will, however, you can eventually reach the Everest Base Camp.
Subsequent to successfully completing the EBC trek, you'll ascend to the Kala Patthar viewpoint. Afterward, you'll veer westwards to Dzongla from the EBC trail. You're then set for a thrilling climb that will bring you to the Cho La Pass (5420m).
Following the mesmerizing views of the Himalayas and Mount Everest, you will descend to Gokyo village. You will climb up to Gokyo Ri and continue trekking to Dole.
At the final stage of your journey, you will embark on a brief stroll from Namche market to Lukla and then take a flight back to Kathmandu to conclude your trip.
The entire trek is designed with periodic days for acclimatization. It is important to pause and let your body adjust to high altitudes before continuing with your journey for it to get used to the changes.
Itinerary of Gokyo Chola Pass Trek
Day 01: Arrival in Airport of the Nepal capital
As soon as you reach Tribhuvan Airport, one of our representatives will be there to greet and escort you to your accommodation. Once you arrive at your quarter, all you have to do is kick back and enjoy our services. At your leisure, you can stroll through Thamel streets.
Meal: Breakfast/Lunch/Dinner
Day 02: Aviate to Lukla and hike to Phakding
The next day, you will take an early morning flight to Lukla to see the Nepalese hills and the Himalayas. It's a short 30-minute flight, but it's an incredible experience that you won't soon forget.
After a hearty breakfast, you will then hike to the small village of Phakding, which is an excellent opportunity to see some of the local Sherpa cultures. You'll see traditional houses, prayer stone walls, and monasteries and monks.
The scenery is beautiful, with several mountains in sight, rivers, and waterfalls. This is just a glimpse of what's to come on your journey.
While in Phakding, you can explore the village or relax on the hotel veranda. Overnight accommodation is available at the hotel.
Meal: Breakfast/Lunch/Dinner
Hiking: 3 to 4 hours
Day 03: Stroll to Namche Bazaar
The day starts with an early morning hike to reach Namche. You will stop in a tea house or hotel for breakfast and some rest. You will then continue your walk following the Dudhkoshi River. You will cross two cable bridges before reaching Monjo. Then, it's a 20-minute head down to the entrance to National Park of Sgaramatha.
After lunch, you will resume your walk for approximately 3 hours until you reach Namche Bazaar. The trackway will take you through a pine forest before you arrive at Namche.
Accommodation at a hotel in Namche.
Meal: Breakfast/Lunch/Dinner
Hiking: 5 to 6 hours
Day 04: Namche Bazaar acclimation
Today is a critical day for your body to prepare for tomorrow's hike. Start with a nutritious breakfast, followed by light stretching and light jogging to warm your body up. After that, visit the museum and take in the sights of the local wildlife, plants, and culture.
End your day with a leisurely stroll around the market, picking up souvenirs and trying out some of the local cuisines. This is an enjoyable way to spend the day, allowing you to relax and refresh before tomorrow's adventure!
Meal: Breakfast/Lunch/Dinner
Accommodation: Hotel in Namche
Day 05: Expedition to Tengboche
After your morning meal, you will commence your travel to Tengboche. On your passage, you will halt for few minutes for lunch at one of the tea houses en route. The rumble of the Dudhkoshi river, the pine forests, and the light breeze will make several hours of your hectic walking a welcome respite.
After some rest, you will continue your trail, which will become quite steep, and it will take approximately three hours to reach Tengboche. As you enter the village, you'll be greeted by an amazing view of the stunning Ama Dablam mountain.
Next, you will arrive at the monumental monastery in the Khumbu region, the Tengboche Monastery. This village is a typical example of a Himalayan settlement, with houses made of stone grouped together and separated by narrow alleys.
The nearby forest, flowing river, and snowy peaks of the Himalayas provide a stunning backdrop to this simple way of life. The night stay in Tengboche allows you to explore this fascinating place in more depth.
Meal: Breakfast/Lunch/Dinner
Hiking: 5 to 6 hours
Day 06: Walk to Dingboche From Tengboche
After breakfast, you will take about three hours to reach Pangbpche via the small Dibuche village. A long, gradual climb follows the trail through a rhododendron forest and over a bridge. You will reach the Pangboche village catching a glimpse of Ama Dablam.
Here you will take a short lunch break and continue your hike to Dingboche. The trail provides plenty of occasion to appreciate the surrounding natural allure and see yaks walking in a line carrying loads. You will rest the night in Dingboche.
Meal: Breakfast/Lunch/Dinner
Hiking: 5 to 6 hours
Day 07: Dingboche acclimation
You can utilize this day by trudging to Nangkar Tshang and appreciate the magical territory of the world's most impressive mountains, such as Thamserku, CholaTse Peak, and Lobuche Peak.
Return to Dingboche and lodging at the village hotel.
Meal: Breakfast/Lunch/Dinner
Height: 5100 m
Day 08: stroll to Lobuche from Dingboche
The trek starts after breakfast as you take on a 4-5 hour walk to Lobuche village. The passage is comparatively steep but you ascend mostly through forests, with occasional stops at small villages along the way. You will come across a chorten and Dughla before arriving at Chupolari.
Once you appear in Lobuche, you will be requited with marvelous views of Mt. Everest and other summits in the area such as Ama Dablam and Nuptse.
Meal: Breakfast/Lunch/Dinner
Hiking: 4 to 5 hours
Height: 4910 m
Day 09: Lobuche to Gorakshep and EBC
A 3 hour hike at the crack of dawn will take you to Gorakshep, where you will go through health check-up for the further trek to EBC. Strolling on the Khumbu Glacier's lateral moraine gives you an incredible view of the zenith and the peripheral mountains.
After another couple hours' hike, you will ultimately be at EBC with all smiles and hugs, full of admiration and happiness. You will then rebound your travel to Gorakshep and spend the night here.
Meal: Breakfast/Lunch/Dinner
Hiking: 8 hours
Height: Gorakshep 5170 m and EBC 5364 m
Day 10: Gorakshep to Kala Patthar and return to Dzongla
You will commence your exploration to Kala Patthar early in the morning; the 2-hour climb will escort you to the Kala Patthar summit. Enjoy the picturesque image of all the major Nepal mountains and head back to Gorakshep for lunch.
You will then head towards Dzongla, following the up-and-down trail that passes across the beautiful green lake of Chola Tsho. The town is the absolute place to relax and enjoy the stunning scenery, so you will spend your right in Dzongla.
Meal: Breakfast/Lunch/Dinner
Hiking: 6 to 7 hours
Height: Kala Patthar 5545 m and Dzongla 4830 m
Day 11: Trek to Dragnak or Thangna via crossing Cho La Pass
Rise at dawn, and you will commence your hike to Chola Pass. As you pass through a steep and slippery traverse across the Ngozumpa Glacier, the trail needs a careful approach. You will spend some time at the pass where you can admire the beauty, rest, take pictures, and make a memory for a lifetime.
Then you will continue walking to the Dragnak village or Thangna as per your preference.
Meal: Breakfast/Lunch/Dinner
Hiking: 6 to 7 hours
Height: Cho La Pass 5420 m
Day 12: Trek to Gokyo Lake
For a short hike of 2 to 2.5 hours, take the trek up to the top of the Ngozumpa Glacier. Then cross over it and you'll come across Gokyo Lake, which is Nepal's deepest lake. Spend some time here, take in the beautiful scenery and listen to serene sounds of the lake.
You will then arrive at the Gokyo village after passing the third lake. Tomorrow you will be ascending the Gokyo Ri, so it is better to prepare your torches before the early morning start.
Meal: Breakfast/Lunch/Dinner
Hiking: 3 to 4 hours
Height: 4790 m
Day 13: Ascend Gokyo Ri and trek to Dole
Gokyo Ri is a mountain in the Khumbu region of Nepal and it offers one of the most beautiful views in the world. To experience this amazing view, all you need to do is get up early and embark on a 2.5 hour trek up to its highest point.
The trek may be strenuous, but when you reach the summit and take in the breathtaking panoramic views, you will know that it was all worth it.
Have a small breakfast before trekking for 5 hours to reach the secluded village of Dole. Once there, you'll have a chance to relax and enjoy the tranquility of the place before returning back to Namche.
Meal: Breakfast/Lunch/Dinner
Hiking: 7 to 8 hours
Height: 5483 m
Day 14: Trek to Namche
After breakfast, you will initiate the end of this amazing trek. Head back to the Namche market with approximately 5 hours of walk. You will pass the rest of the day exploring the Namche market, where you can buy some souvenirs. You will check in at the hotel at Namche, where you will be greeted with our farewell party.
Meals: Breakfast/Lunch/Dinner
Hiking: 5 hours
Day 15: Trek back to Lukla
You are now on the final stretch of your hiking journey, back along the usual route from Phakding to Lukla. It will take you around 4 hours to get to the Lukla village where you can spend a night before heading back to Kathmandu.
Meals: Breakfast/Lunch/Dinner
Hiking: 4 hours
Day 16: Fly back to Kathmandu
In just half an hour, you will fly to Kathmandu and then be taken to your hotel. You're free to spend the remaining day however you want – take it easy or explore the city. It's completely up to you!
Day 17: Full-Day Kathmandu Valley Sightseeing
Today, you're invited to experience the wonders of Kathmandu on sightseeing tour. You'll be picked up from your hotel after breakfast and taken to some of Nepal's most iconic landmarks – the Pashupatinath Temple, Swaymabhinath Temple, and the famous Bouddhanath Stupa.
Our knowledgeable driver will guide you through these ancient sites, providing insight into their history and culture. It promises to be an unforgettable trip – a chance to explore Kathmandu in all its glory!
Meals: Breakfast and Dinner
Day 18: Departure
After breakfast, our team will aid you with hotel checkout and take you to the international airport 3 hours before departure.
Meal: Breakfast
Includes/Excludes
We are updating the contents.
We are updating the contents.
Reviews on Gokyo Chola Pass Trek
Be first to post a review in this trip.