Annapurna Circuit Trekking – 17 Days
We offer special group discounts, please contact us for the offers.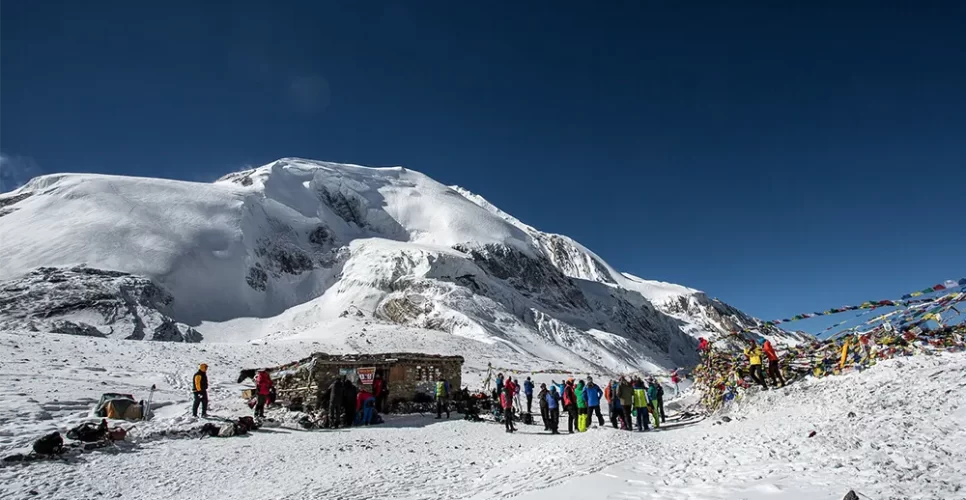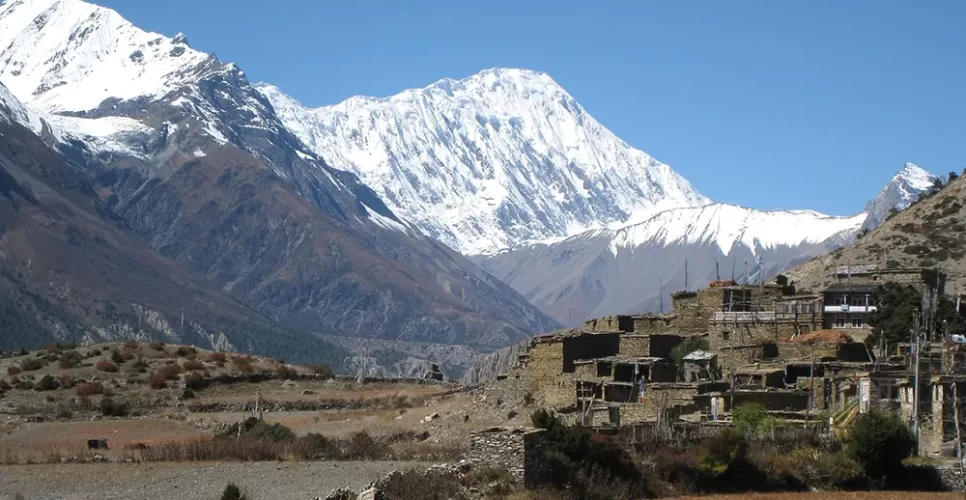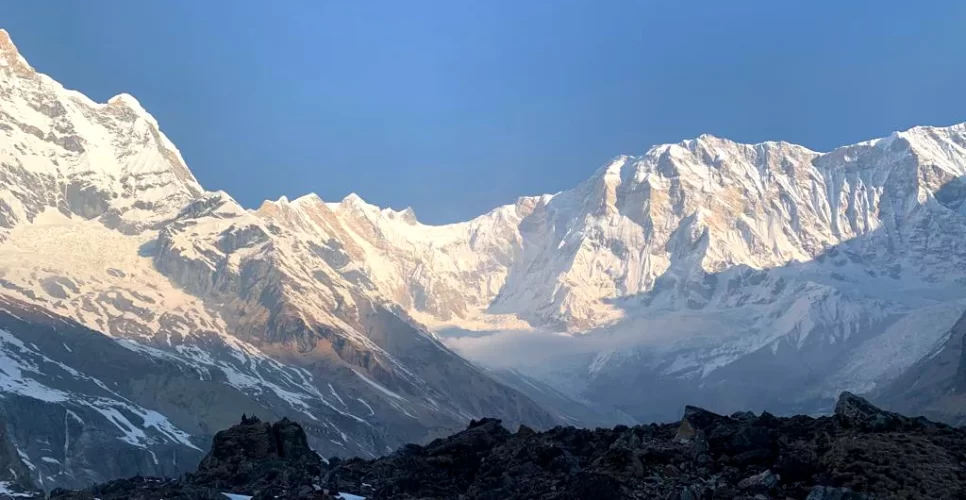 Annapurna Circuit Trekking Highlights
Experience the awe-inspiring beauty of the Annapurna Circuit with Kabru Adventure Holiday. Our trek will take you to all the highlights, from stunning mountain vistas, picturesque villages, and monasteries to majestic waterfalls. Get ready for an unforgettable journey that you will remember for a lifetime!
With experienced guides, traverse the path leading to famous views of Mt. Annapurna, Dhaulagiri, Machhapuchhre, and more.
Trek through a variety of terrain for a truly unique experience that only Kabru Adventure Holiday can offer.
Visit iconic landmarks such as Thorong La Pass and Muktinath Temple for a truly unique experience.
Enjoy the convenience of a professional guide and all the necessary amenities to ensure your trek is safe and enjoyable.
Immerse yourself in local culture, taste delicious traditional Nepalese cuisine and make unforgettable memories.
Overview of Annapurna Circuit Trekking – 17 Days
The Nepalese Annapurna Circuit Trek is one of Nepal's most recognized and arduous hiking routes. The trip takes you along some gorgeous scenery and passes through various climates, from subtropical to alpine.
The Annapurna Circuit Trek is a magnificent trek that will take you through lush valleys, high mountain passes, and traditional towns.
It provides impressive views of the famous Annapurna mountain, including Dhaulagiri and Machhapuchhre.
You will encounter varied cultures, friendly folks, and delectable Nepali food along the journey. Annapurna Circuit Trekking is an unforgettable experience that should not be missed!
Annapurna Circuit in a nutshell
Trekkers from around the world flock to Nepal to trek the Annapurna Circuit. Starting at Chame, the circuit takes you through a variety of terrains and villages, such as Pisang, Ngawal, and Manang. The highlight of this journey is the Thorong La pass (5,416m), which offers incredible views of some of Nepal's highest peaks. Along the way, you will be surrounded by spectacular mountain scenery and have plenty of opportunities for cultural experiences with local villagers.
The partly steep way back leads to the pilgrimage spot Muktinath in Jomsom. Muktinath is a significant pilgrimage site located in the scenic Mustang district of Nepal. Besides the temple, Muktinath offers spectacular views of the majestic Annapurna mountain range and offers plenty of trekking, mountaineering, and paragliding opportunities.
After the trek, you have the option to take a plane or bus ride over to Pokhara city. Alternatively, you can make the journey further by foot from Tatopani all way up to Pokhara, which is officially considered the ending point of Annapurna Circuit. There are also lots of variants of this classic route available for exploration.
Itinerary of Annapurna Circuit Trekking – 17 Days
Day 01: Arrival in Kathmandu
Make your arrival in Kathmandu a breeze with our pick-up service from the Kathmandu International Airport! We'll take you directly to your hotel, so you don't have to worry about finding transportation or getting lost in the city. You can explore the city's vibrant culture and ancient temples from here before heading off on your journey.
We'll then prepare all the trekking essentials and sort out permits and itinerary details, followed by a welcome dinner. Accommodation will be at the hotel.
Day 02 : Kathmandu: Sightseeing and trek Preparation
On day two, you can discover the sights and sounds of this vibrant city and prepare for your trek. From the ancient temples of Kathmandu Durbar Square to the bustling streets of Thamel, there is something for everyone in Kathmandu. Spend some time shopping for trekking gear and supplies before heading out on your journey.
After you have seen all that Kathmandu has to offer, it's time to prepare for your Annapurna Circuit Trek! Pack all the necessary gear and supplies, get a good night's rest, and prepare for an adventure of a lifetime!
Day 03: Drive to Chame
Bright and early, we start an unforgettable journey from our hotel to the stunning mountain village of Besisahar. After a 5 to 6-hour trip, we will get there and switch to another means of transport for a 3 to 4-hour ride to Dharapani village.
Rejuvenated after our break, we make our way toward Chame. The road steadily rises along the Marsyangdi valley until Chame comes into view. This place was inhabited by traders from Nepal and Tibet who followed a trade route here.
Staying in Chame, you can take pleasure in the stunning vistas of Annapurna II. A night spent in the town's hostel is truly worth it.
Day 04 : Trek from Chame to Pisang
Our hike upstream along the river from Chame to Pisang starts. In a couple of hours, we come across Bratang, a traditional Gurung settlement with a large number of vegetable gardens. After that, we see some rocky terrain with an incline that proves hard to traverse.
After going beyond the rough terrain, you get an incredible sight of Manaslu, Annapurna III and IV, Pisang, and Tilicho peaks in a beautiful valley.
After resting in Pisang for the afternoon, we can visit Upper Pisang to acclimatize even more. To finish off the day, we are spending the night in a lodge in Pisang.
Day 05 : Pisang to Ngawal
Early departure from Pisang for a hike. As we gain altitude, the terrain gets dry. The drive leads us to Ngawal, another settlement at the Annapurna range's base.
This pristine community is home to some of Nepal's most magnificent landscapes, making it a haven for adventure seekers and nature enthusiasts alike. This charming community has something for everyone, from beautiful terraced farms and gushing waterfalls to undulating hills and towering snow-capped summits.
Day 06 : Ngawal to Manang
Our itinerary today includes visits to the villages of Chulu and Mungii. We then move on to Braga, a Gurung town, where we can rest and explore the local monastery.
After a lengthy 5.6 hours of trekking, we will finally reach Manang, a beautiful village filled with wooden houses and breathtaking views of Annapurna II, III, and IV, as well as Gangapurna and its majestic glacier. We will spend an awe-inspiring night there.
Day 07 : Manang: Acclimatization day
Acclimatization day allows you to take a break, relax and admire the scenery around you. Depending on your preferences, you can go for leisurely walks and explore the area.
Embarking on a 7-8 hour arduous journey to reach the frozen lake can be incredibly rewarding. It's a steep path, but the view you will get of the Annapurna II, III, and IV passes, Gangapurna and Braga Monastery from up top is simply incomparable.
Explore the peaceful valley monasteries and caves on this 3-4 hour tour! Or, take a hike to the gorgeous Gaangapurna Glacier and its lake, which will only take approximately 2-3 hours.
Day 08 : Manang to Yak Kharka
After getting accustomed to Manang, we set off on our journey toward Yak Kharka. The path is rather straightforward with minimal incline. However, the lack of oxygen will become more evident as it will be our first day to climb higher than 4k of altitude.
We have two options to choose from – going to Tilicho Lake or Yak Kharka. The journey to the lake would require a few more days, but Yak Kharka is our destination for today. For tonight, we can find accommodation at an inn in Yak Kharka.
Day 09: Yak Kharka to Thorong Phedi
Today is a relatively more straightforward day of the trek. The valley gradually gets narrower and winds up at the village of Thorong Phedi, which is usually where most hikers take a break in preparation for the pass crossing to Thorong-La.
For better acclimatization later in the day, we recommend hiking for a few hours to the high camping spot of Thorong Pedi. You'll be staying overnight at a hotel in that same region.
Day 10 : Thorong Phedi to Muktinath via Thorong La pass
Today marks the pinnacle of our journey, which is the renowned Thorong-La pass. It is one of the toughest stages, as we need to conquer the highest pass on this circuit. We will begin early as it requires approximately 8.9 hours of trekking to reach Muktinath village.
Initially, the path is quite steep; however, beyond that, it gradually rises with no significant inclines while passing through a dry and mountainous terrain.
Following a leisurely photo session and a well-deserved rest, we embark on a harrowing but tranquil journey downhill. Along the way, we get to appreciate the spectacular views of Dhaulagiri, Tukuche, and the Kali Gandaki valley. After approximately 8.9 hours of trekking, we reach Muktinath, where we spend the night in a hotel.
Day 11 : Muktinath to Tatopani
From Muktinath, we will drive along a scenic and winding path along the Jhong Khola river and pass through several villages, such as Kagbeni, Marpha, Tukuche, and Lete. Along the way, we will be treated to stunning views of snow-capped mountains, lush valleys, and ancient monasteries. Finally, we will arrive at one of the most magical places on Earth, Tatopani.
This rest stop is just what we need after ten days of trekking. Here, we can use the hot springs and soak in the many benefits it offers. As for accommodation, there's a hotel available for us to spend the night in.
Day 12 : Tatopani to Ghorepani
Today we persevere on our voyage to Ghorepani. The climb will be arduous, yet the reward is worth it! You get to immerse yourself in a more secluded, original atmosphere as this area is rarely traveled by outsiders. Be prepared for an uphill journey, as the elevation at Ghorepani stands at 2,874m.
Continuing your journey, you will come across picturesque villages like Ghara, Shikha, and Chitre. When you arrive at Ghorepani, there are many places to rest and enjoy the local atmosphere.
Day 13: Ghorepani to Poon Hill to Tadapani
A hike up to Poon Hill from Ghorepani is a straightforward task. The top of the hill provides an awe-inspiring sight, so people usually get there at least two hours before sunrise to make the most out of the view. There's also a small cafeteria at the summit where visitors can enjoy something hot like coffee or chocolate.
We'll stroll to Tadapani after gathering our belongings and eating breakfast. The first leg is a steep ascent to Deurali Pass, a valley from which we can overlook the Annapurna massif. The route then descends through a deep woodland till the stage concludes in Tadapani, which is likewise placed in a favorable location with great views of the Alps.
Day 14 : Tadapani to Ghandruk
The route now descends to the town of Ghandruk through a thick forest of oak, rhododendron, and bamboo. Even though the Himalayan peaks are obscured, it is a lovely day to enjoy nature's untamed sounds.
In this area, Ghandruk is the most well-known village. Additionally, it is one of the Gurung society's most populous settlements. We're going to end the day at Ghandruk.
Day 15 : Ghandruk to Pokhara
We will exit the Annapurna Conservation Area after leaving Ghandruk. The path is primarily downhill and follows the road that goes to Birethanti for a good amount of the way. We will eventually arrive at the ACAP checkpoint, which will signal the conclusion of our journey. We will first go to Nayapul, where buses and jeeps are ready to transport visitors to Pokhara. There is only a small distance between Birethanti and Nayapul (around 20 mins).
Day 16: Fly from Pokhara to Kathmandu
Today, we will take a flight from Pokhara to Kathmandu. We will arrive at the capital after traveling for around 40 minutes, and we will then accompany you to your accommodation. You have some free time to relax or go for a leisurely evening stroll across the city.
Day 17: Final departure
Today is a bittersweet day for us as you will depart from Kathmandu. Our agency will assist you in getting to the airport three hours before your departure and will help you with all the necessary paperwork while we stay and wave goodbye to you.
We will miss you and hope your journey is successful, safe, and enjoyable. We have had a wonderful time getting to know you and showing you some of the amazing things this part of the world has to offer.
Includes/Excludes
We are updating the contents.
We are updating the contents.
Reviews on Annapurna Circuit Trekking – 17 Days
Be first to post a review in this trip.