Annapurna Base Camp Short Trek
We offer special group discounts, please contact us for the offers.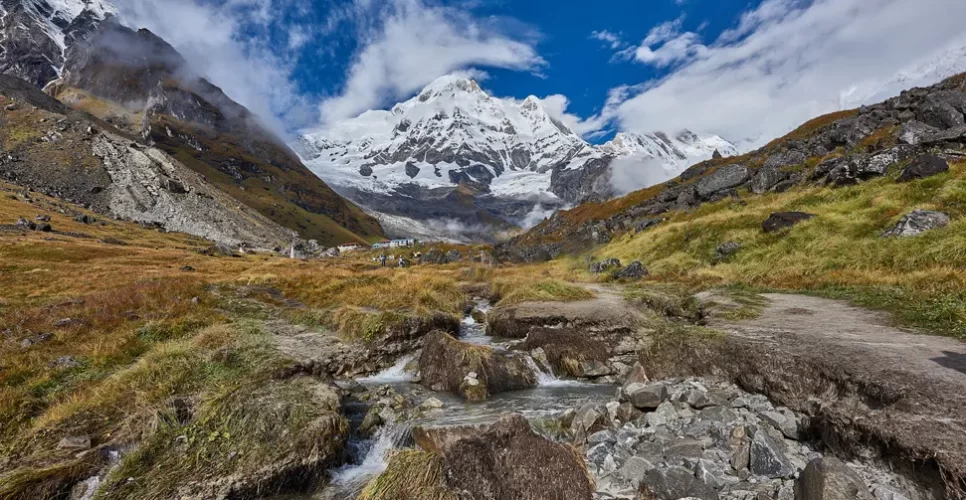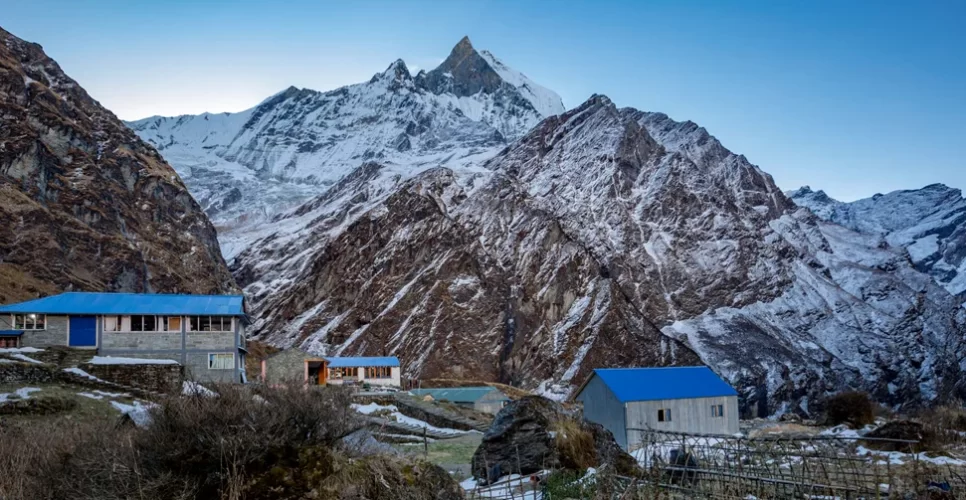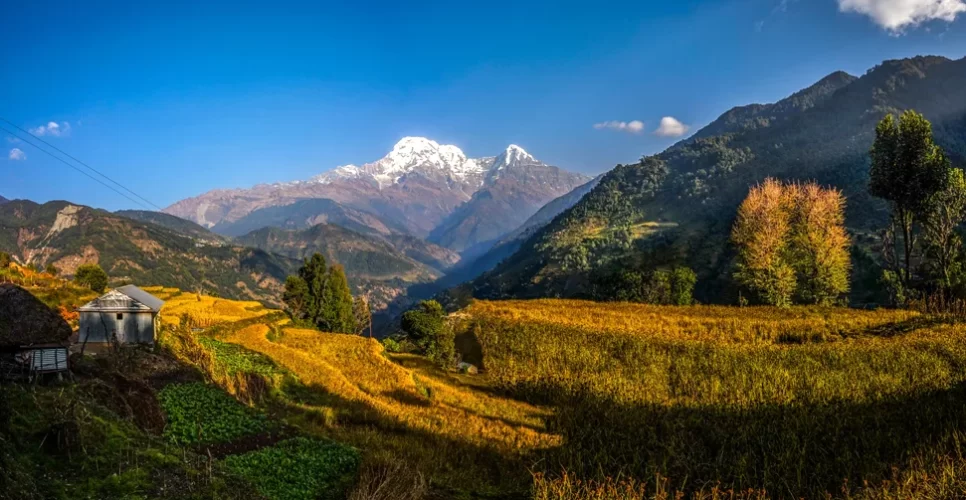 Trip Highlights of Annapurna Base Camp Short Trek
Short ABC trek Highlights
By way of the Annapurna Massif, Machapuchare (Fishtail Mountain), and Dhaulagiri, the Short ABC Trek passes through some of the most picturesque panoramas on the planet. An 11-day completion time is possible for the hike. The Short ABC Trek have so many highlights, which are listed below:
The brief ABC trip is great for the vistas, which are one of its most outstanding features. The Annapurna massif and other breathtaking vistas will be all around you.
The folks you encounter on the journey are some of the kindest in all of Nepal. Your fellow trekkers and the people you encounter along the journey will become fast friends.
The short ABC trip is no exception to Nepal's reputation for outstanding cuisine. You may sample traditional Nepali foods like daal bhat and momos.
Overview of Annapurna Base Camp Short Trek
An ideal first trip to Nepal is a short trek to Annapurna Base Camp, one of the most famous cult routes in the world. This exciting round path is excellent for a first visit to Nepal and to discover the secrets of this enigmatic kingdom.
Through the aromatic landscape, simple trails are built between the loggias; there are no passes or traverses, the ascent is easy, and the highest point is 4100 m.
The path in this quick ABC hike is designed to be as fascinating as possible. The section of the trail that remains unmodified only starts from Chomrong. And based on the whims of your imagination, you'll visit this village.
Anyone with average physical fitness may complete the short journey to the Annapurna base camp, which takes place in generally favorable temperatures and at moderate altitudes.
Both amateur and professional photographers will enjoy this excursion. You'll be sure to catch it all with your camera lens since these vistas, sunsets, starry sky, and Himalayan light cannot be seen anywhere else on earth.
Overview of short ABC trek Route
For tourists with limited time who nevertheless want to see the variety of landscapes and meet people from other ethnic groups to learn about their way of life and culture, the short Annapurna Base Camp Trek is ideal. Jhinu Danda offers hikers a chance to take a dip in the hot springs to soothe aching bodies.
The adventure begins in Pokhara and continues via several small villages populated by Magars, Gurungs, and Thakali ethnic groups. We will go via the towns of Deurali, Kimche, Ghandruk, Chomrong, and Kimche.
We will climb to the base camp of the holy, uncrowned peak known as Machapuchare before approaching the Annapurna base camp. The sanctuary, also known as the Annapurna glacier and one of the gorgeous locations on earth, is where we next arrive. The arrival at the Annapurna base camp, which offers breathtaking panoramic views of the snowy peaks of Annapurna, Himchuli, Gangapurna, and Machapuchare, exceeds all expectations after a series of arduous hikes in the open field.
Itinerary of Annapurna Base Camp Short Trek
Day 01: Arrival in Kathmandu and trip preparation
Kabru Adventure Holidays crew will greet you at the airport and drive you to your accommodation. We can use the afternoon to wander around the Thamel neighborhood, where you can find all kinds of restaurants and shops.
It's a world of its own inside the city, where you can buy what you need for the voyage.
We will give you a welcome supper in the evening and brief you on this short excursion.
Car 30 minutes
Accommodation 3-Star Hotel
Meals Dinner
Altitude 1437m.
Day 02: Fly to Pokhara; drive to Kimche and trek to Ghandruk
The first leg of our Nepal adventure will take us to Pokhara via domestic flight. Then, we'll take a journey to the hamlet of Kimche in the Annapurna area. The journey itself is undoubtedly an adventure! The view is breathtakingly magnificent with its imposing mountains and beautiful green valleys.
From Kimche, we will set off on a walk to Ghandruk, a tiny settlement situated in the Annapurna range's foothills. Despite the relatively simple terrain, the views will be breathtaking. We'll go past terraced rice fields, bamboo groves, and rhododendron woodland.
Multiple 25 Minutes Flight, 1.30 hours drive and 1 hour hike
Accommodation Guest House or Tea house
Meals BF/ Lunch / Dinner
Altitude 2012m.
Day 03 : Ghandruk to Chhomrong ( 9.8 Kilometers )
A walk from Ghandruk to Chhomrong is the first activity of the day. You may enter the Annapurna Sanctuary through Chhomrong; from here, you can first see the magnificent Annapurna range.
The settlement, perched on a hilltop, provides breathtaking views of the valley below. Chhomrong offers a variety of lodging alternatives, from budget hotels to rudimentary teahouses.
The trail leaves Chhomrong and ascends through the mountains till it reaches the Annapurna Base Camp.
Walking 5 to 6 hours
Accommodation Guest House or Tea house
Meals BF / Lunch/ Dinner
Altitude 2150m.
Day 04: Chhomrong to Bamboo
The journey leaves Chhomrong and ascends along the Modi Khola River to the village of Bamboo, which is perched at an elevation of 2,300 meters.
The journey begins with easy slopes and descents and progressively grows more difficult as you go to higher elevations. The Himalayan peaks that tower above offer breathtaking vistas.
Along the well-maintained path, there are many places to pause and take a break.
Walking 4 to 5 hours
Accommodation Guest House or Tea House
Meals BF / Lunch/ Dinner
Altitude 2310m.
Day 05: Bamboo to Deurali
After an early breakfast at our lodge in Bamboo, we set out on our trek to Deurali. The trail takes us through forests of oak and rhododendron, with the occasional glimpse of the Himalayan peaks through the trees.
The trail undulated through dense forest for some time before arriving at Hinku Cave. We take a short break here before continuing towards Deurali. The vegetation changes as we get closer to Deurali, becoming more scrub-like.Deurali is a small village, and we spend the night in a local guesthouse.
Walking 3 to 4 hours
Accommodation Guest House or Tea House
Meals BF/ Lunch / Dinner
Altitude 3230m.
Day 06: Deurali to Annapurna Base Camp via Machhapuchhre Base Camp
We'll continue traveling until we reach Machhapuchhre Base Camp. You transfer by streams and waterfalls, dense jungles, open meadows, and the foothills of the Himalayas on your journey.
After that, the path ascends steadily to the base camp of Mount Macchapuchre, where you'll be rewarded with fantastic mountain vistas. We will go to Annapurna Base Camp, our final stop, after a brief excursion to MBC.
Walking 5 to 6 hours
Accommodation Guest House or Tea House
Meals BF / Lunch / Dinner
Altitude 4130m.
Day 07: Annapurna Base Camp to Bamboo
It's time to bid Annapurna Base Camp adieu and descend the mountain after a wonderful stay there. The journey to Bamboo will take a few hours, so we'll start early in the day.
Before moving on, we'll pause for a quick lunch. The landscape will drastically change as we descend, and soon we'll be back in the lush forest.
Walking 7 to 8 hours
Accommodation Guest House or Tea House
Meals BF / Lunch / Dinner
Altitude 2310m.
Day 08: Bamboo to Jhinu Danda
Beginning in the town of Bamboo, the trip ascends through a bamboo forest to the settlement of Jhinu Danda.
Along the trip, you will have opportunities to witness some of Nepal's incredible wildlife, such as Himalayan red pandas, musk deer, and even the endangered snow leopard.
An excellent way to relax after a day of hiking is to use the hot springs at Jhinu Danda.
Walking 5 to 6 hours
Accommodation Guest House or Tea house
Meals BF / Lunch / Dinner
Altitude 1760m.
Day 09: Trek to Mathque; drive to Pokhara
The trail then ascends through the forest to reach Mathque, a small village that is the endpoint of the trekking trail and offers stunning views of the Himalayan range.
From Mathque, we will drive to Pokhara; the road is very windy, and the scenery is breathtaking. The drive takes about 3 hours and is very scenic. The best time to drive is in the morning when the sun is just rising.
Multiple 1 hour trek and 3 hours drive
Accommodation 3 - Star Hotel
Meals BF/ Lunch
Altitude 822m.
Day 10: Fly to Kathmandu
The flight from Pokhara to Kathmandu is a short one, but it's a scenic one. The plane takes off from Pokhara's small airport and flies north, following the valley of the Seti River.
It takes about 45 minutes, and when you land, you'll be in the heart of the city. From the airport, it's easy to get to your hotel or any of the city's many attractions.
The rest of the afternoon will be at your disposal which is the perfect time to explore Kathmandu by the way.
The streets are quieter, and the day's heat subsides, making walking around more pleasant. There are plenty of great places to visit in Kathmandu, so it's worth exploring the city for a few hours.
Flight 25 Minutes
Accommodation 3- Star Hotel
Meals Breakfast / Culture Dinner
Altitude 1437m.
Day 11: Departure
It's time for you to conclude your journey in Nepal. We want to ensure you have a stress-free and enjoyable journey, so we will take you directly to the airport and help you with check-in, security checks, and other necessary steps before boarding.
We hope you will remember this vacation fondly and return soon for more.
Car 30 Minutes
Meals Breakfast.
Includes/Excludes
What's Included?
All ground transportation with private vehicle.
Welcome dinner and farewell Nepali culture dinner.
Hotel accommodation 3-Star category hotel in Kathmandu and Pokhara with breakfast.
Domestic airfare as per itinerary.
Full board meals with tea/coffee (Breakfast, Lunch and Dinner) during the trek.
Best available Lodge to lodge accommodation during the trek.
One highly experienced, helpful and friendly guide, porter (1 porter for 2 people) and their food.
Annapurna Conservation Area Project Permit (ACAP) and TIMS.
All entrance fee.
A comprehensive medical kit
All applicable government and local taxes.
What's Excluded?
International airfare and Nepalese visa fee.
Travel Insurance.
Personal expenses (like telephone calls, internet, laundry, soft drinks, beers, and any alcoholic beverages.)
Extra hotel accommodation in Kathmandu and Pokhara.
Lunch and Dinner in Kathmandu and Pokhara.
Tips for the guide, porter & driver. (tipping is expected).
Emergency rescue.
We are updating the contents.
Reviews on Annapurna Base Camp Short Trek
Be first to post a review in this trip.