Trip Price
US$
US$ $5199 Per Person
We offer special group discounts, please contact us for the offers.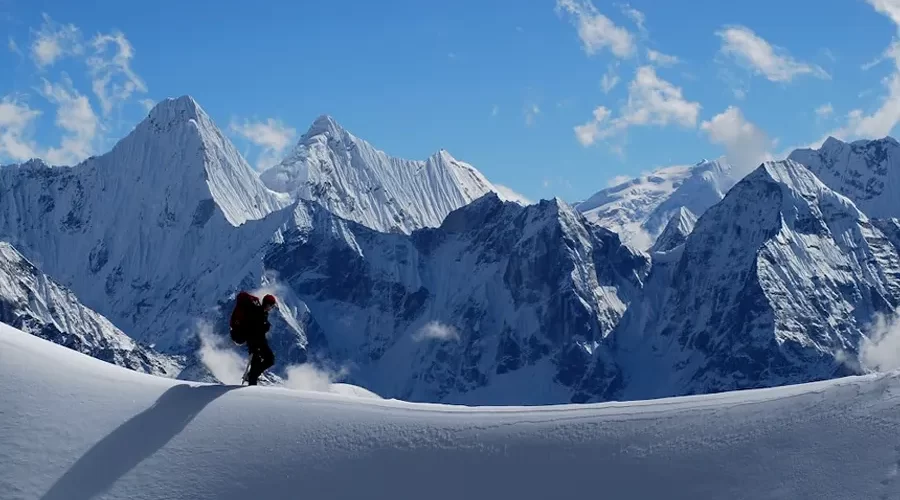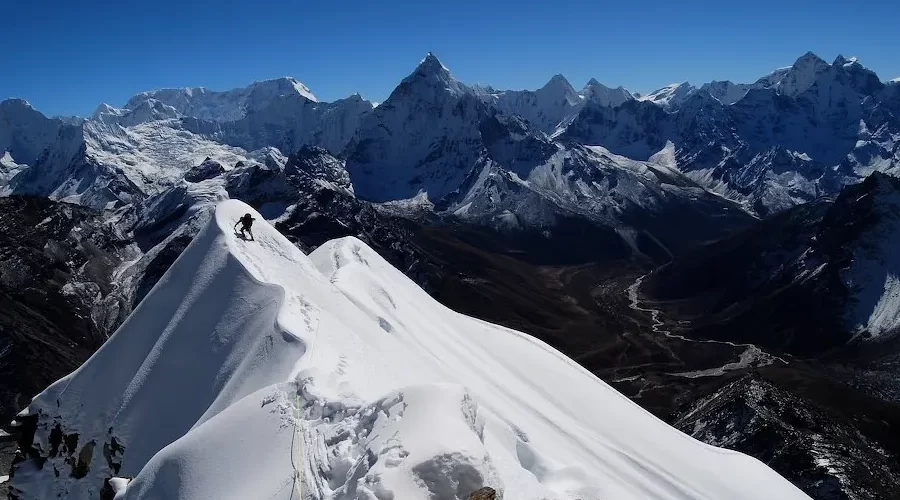 Trip Highlights of Lobuche Peak Climbing
Trek above the altitude of 6100m to reach Lobuche Peak.
Explore the breathtaking Khumbu glacier.
Trek through the highly popular and populated Everest Base Camp.
View of the serene panoramic mountain views.
Learn more about Sherpa culture and tradition.
Overview of Lobuche Peak Climbing
Lobuche Peak climbing offers a thrilling journey in Nepal's renowned Khumbu region. While it's a favored destination for trekkers, one must be physically fit and mentally prepared for the ascent.
The Lobuche Peak climbing journey goes through diverse landscapes, lush forests, and rocky terrain. The trip offers stunning views of high mountains like Everest, Lhotse, Nuptse, and many more mountains of the Everest region. You'll also experience the Sherpa culture, monasteries, local shops, and Nepalese foods.
Lobuche Peak is located bordering Mount Everest and is an impressive 6,119 meters (approximately 20,075 feet) above sea level. It is a spectacular mountain famous for its remarkable beauty and challenging ascent.
Lobuche Peak is not a single mountain as it has two different parts called Lobuche East and West. Both climbing options provide climbers with unique challenges and rewards. The Lobuche Peak climbing trip is highly preferred by adventurous people passionate about the Himalayas Adventure.
The trip presents an exceptional opportunity to enhance your mountain climbing skills. The adventure explicitly allows you to acquire proficiency in ice and rock handling techniques.
How our Lobuche Peak climbing journey begins
The Lobuche Peak Climbing adventure begins with the renowned Everest Base Camp Trekking. This incredible journey takes you through stunning forests, charming Sherpa villages, and ancient monasteries, offering breathtaking views of the Khumbu area at every turn.
After reaching Everest Base Camp and the renowned Kala Patthar, we return to Lobuche village, the starting point for the Lobuche Peak Climbing.
As we approach the Lobuche Base Camp, at an elevation of 4950 meters, the path leading up the valley from Lobuche progressively transforms. It becomes steeper and more challenging with each step.
As we approach the Lobuche Base Camp at an altitude of 4950m, the trail up the valley from Lobuche gradually becomes steeper and more rugged.
From the Base Camp, we ascend steep stone terraces and snowy slopes. We employ fixed ropes to make our way up the ridge along the southwest face. At an elevation of 5600m, we will establish a High Camp.
Preparation for Lobuche Peak Climbing
If you are planning to join or are considering joining a Lobuche Peak climbing, it is important to start focusing on your training now. Lobuche Peak should not be considered a mere trekking peak, as it demands much respect and caution.
Having prior technical climbing experience and being mentally fit are important factors for a successful ascent to the peak. You must prioritize your physical fitness and overall health, which helps you enjoy your Lobuche peak climbing experience. You will need to climb for approximately 8-10 hours per day.
Below, we have listed some preparation tips for the Lobuche peak climbing that can help you maintain physical and mental fitness:
Create a training plan that's designed specifically for your upcoming trip.
Understand fixed-line climbing techniques thoroughly to ensure safety at high altitudes on the glacier.
Make sure to train for at least five days every week, dedicating an hour or more to each training session.
Emphasize high-volume, low-intensity training for effective preparation.
It is recommended to continue with your exercise routine after completing a month of initial training. During this period, dedicate 1 hour in the gym and engage in 3-hour hikes.
Include a well-rounded weight training program that covers core, lower body, and upper body exercises.
To navigate smoothly between rocks on a steep incline of 60 to 70 degrees, it is essential to have efficient movement skills.
It is important to feel at ease when engaging in open conversations with your guides.
To make your trip successful, express support and respect for your fellow teammates.
Maintain a humble, respectful, and considerate attitude when facing pressure during the climb.
Itinerary of Lobuche Peak Climbing
Day 01: Arrival and transfer to the hotel
Our team will meet and greet you at the airport and transport you to your hotel. As you may be tired, it is best to relax and refresh before an evening walk in Kathmandu. Thamel is a vibrant tourism hub located at the heart of Kathmandu, which definitely comes alive at night.
Before departing from Kathmandu, make sure to take some time for last-minute shopping and to meet with your climbing guide.
Day 2:- Welcome brief, Gear Checking, and official formalities in Kathmandu
Before starting the Lobuche peak climbing expedition in Nepal, it is essential to conduct a pre-trip discussion and safety briefing. This will ensure that all participants are adequately prepared and fully informed about the upcoming adventure. This opportunity provides a wonderful chance to connect with fellow trek members, share our excitement, and address any concerns that may arise. It is important to engage with our guide during the trek actively.
Remember to take any last-minute personal items when you go for a quick shopping trip. After a long day, we will be staying overnight in Kathmandu to rest before starting our thrilling Lobuche peak climbing trip.
Day 03 : Fly to Lukla (2840m) and trek to Phakding (2640m)
Our adventure begins when we take a flight to Lukla, which is 2840 meters above sea level. The scenic flight is an exciting experience that provides breathtaking views of the Himalayan scenery. When we arrive in Lukla, we will begin our walk down to the lovely settlement of Phakding.
The path takes us through breathtaking vistas, giving us views of the region's natural glory. The travel to Phakding is a captivating experience that allows us to enjoy the stunning scenery of the Everest area completely. When we arrive in Phakding, we will have time to adjust to the surroundings and enjoy the wonderful hospitality of the people. We will also make the required preparations for the exciting days of trekking ahead of us.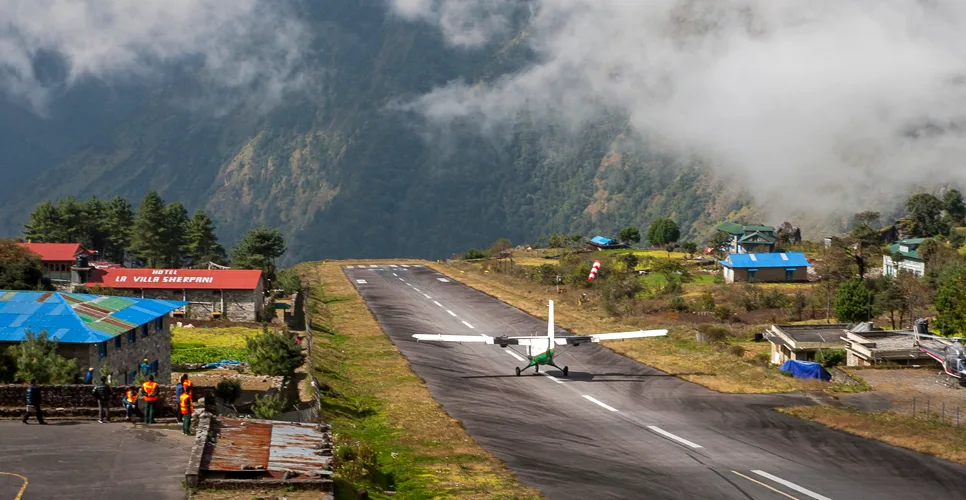 Day 04 : Trek from Phakding to Namche Bazar (3440m)
On day 4, we will continue our Loubhe peak climbing journey with the trek from Phakding to Namche Bazaar. This is one of the most beautiful sections of the trek, and you will begin to experience the Khumbu region's stunning landscapes and unique culture.
We will pass through the upper "New Suspension Bridge" in order to reach Namche Bazaar. During the journey from Larja to Namche, you will be able to catch the first glimpse of Mount Everest. The trek offers breathtaking views of majestic mountains and stunning natural scenery. After leaving Phakding, you will be escorted to Namche Bazaar, where you will have the opportunity to interact with the Sherpa people.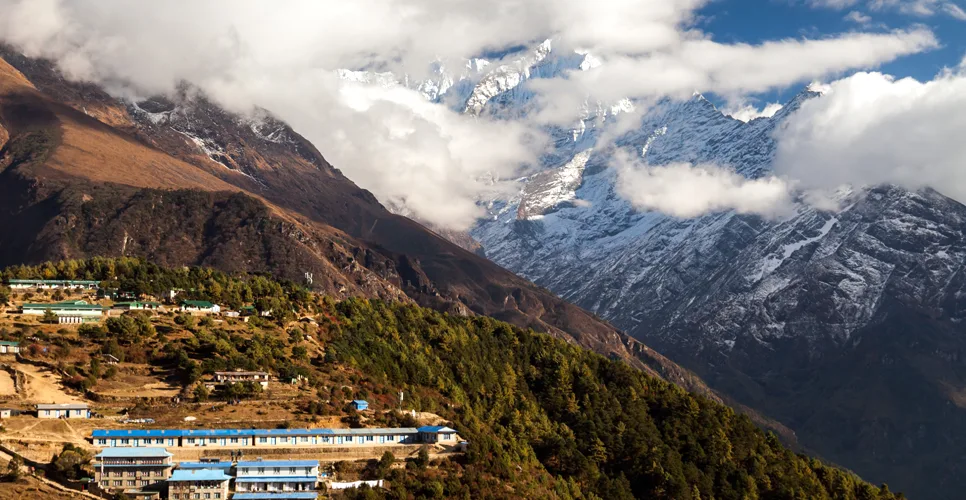 Day 5:- Acclimatize day in Namche; hike to Everest View Hotel and National Park Museum
Every visitor to the Everest Region must include an acclimatization day in Namche Bazaar as part of their itinerary. Today, you will have the opportunity to stay in Namche Bazaar for acclimatization purposes. Additionally, you can engage in a short hike to visit the best Everest viewpoint, museums, and monasteries.
Taking a full rest day in Namche Bazaar is beneficial for acclimatizing to the altitude and weather conditions. Namche Bazaar serves the purpose of allowing our bodies to acclimatize to the high altitudes, as it takes some time for them to adjust.
The town has been decorated with vibrant houses that are scattered across a gently sloping hill, which has a graceful arch-like shape. Kongde Ri is located to the west of the town, while Mt Thamserku can be seen to the east. The hills that surround the area are rich with lush green woods, creating a picturesque landscape.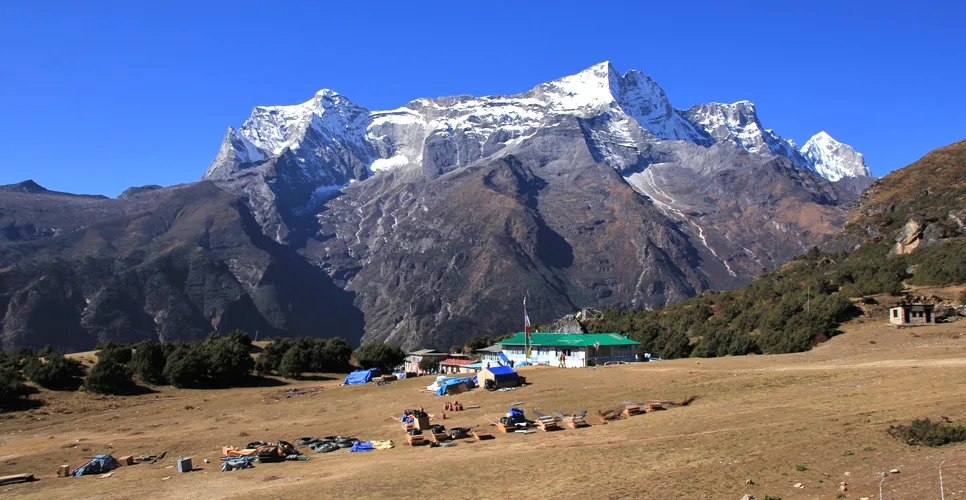 Day 06 : Trek from Namche to Tengboche (3860m)
We will start the day by leaving the town and walking towards the right side as you ascend along the valley. You will start to hit the trail with a slight incline as you ascend above the village and onto the sandy path carved into the side of the valley wall. However, you will also pass through the stairs during the way to Tengboche. As you continue along the trail, have a look at the majestic sights of Lhotse, Nuptse, and the summit of Mount Everest.
As the path begins to dip into the forest below, you will ultimately lose sight of Everest. As you ascend, you will gradually exceed the tree line and reward yourself with stunning views of the valley below. After that, the trail will gradually become less steep and eventually level out. Today, you will arrive at the charming village of Tengboche.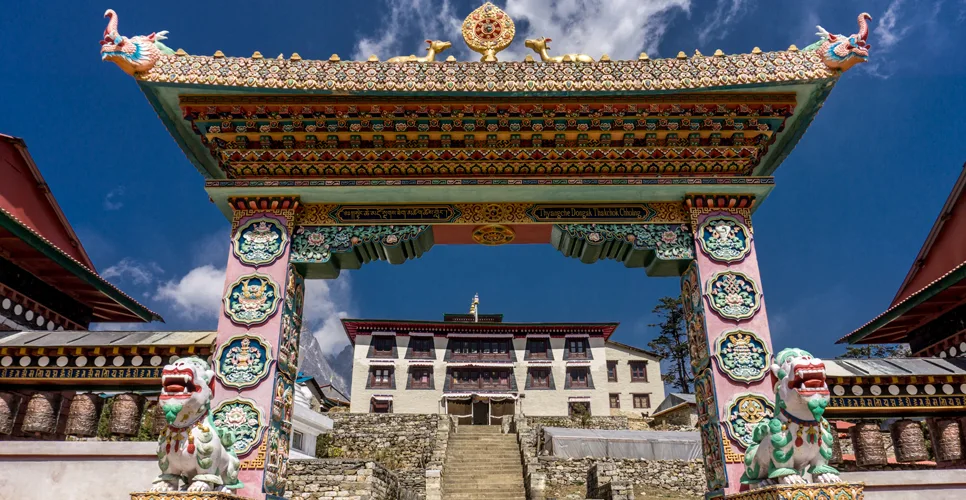 Day 07 : Trek from Tengboche to Dingboche (4410m)
After leaving Tengboche, you will descend through the forest while passing by the quaint village of Deboche. After passing Deboche, you will gradually ascend and eventually come across a wall adorned with inscribed stones. As you continue traveling along the valley walls, you will come upon a suspension bridge that goes to the valley's left side. You will be greeted with breathtaking views of Ama Dablam and the surrounding mountain landscape.
Now, it is time to proceed with your day as you depart from Pangboche and continue further up the valley. After some time, you will come across the village of Shomare, which is the last village before reaching Dingboche. After you arrive in the village, make your way to a teahouse overnight.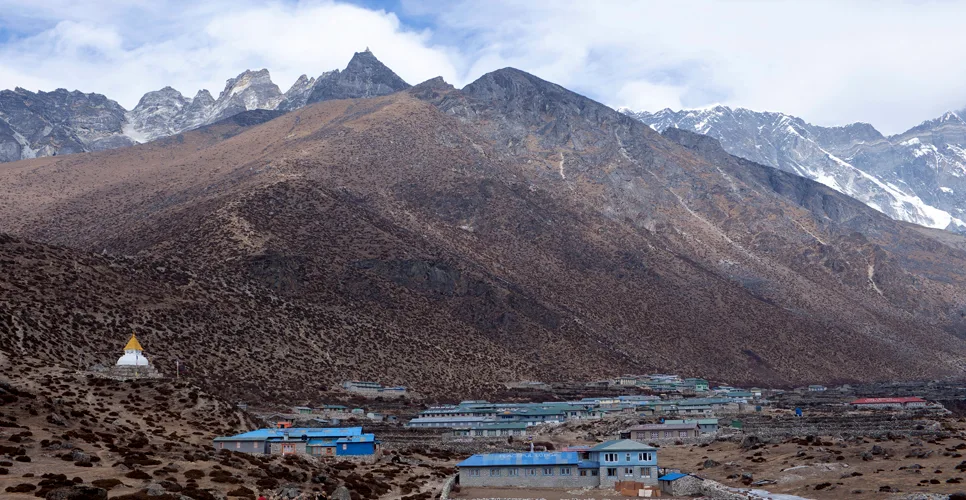 Day 8 :- Acclimatize day in Dingbouche; Hike to Nagarjun Hill
On Day 8, we will have another acclimatization day in Dingboche. This day will help your body adjust to the altitude and prepare for the climb. During the acclimatization day, we will hike to Nagarjun Hill, located above Dingboche. From here, you can enjoy the stunning views of the surrounding mountains, including Ama Dablam and Lhotse.
Day 09: Trek from Dingboche to Lobuche (4910m)
The day begins by continuing along a gentle incline path that runs alongside the mountain's wall, leading further up into the valley. The village of Pheriche is located right below you as you make this turn into the valley. You will notice a small settlement of Thukla Village on the other side of the river, directly in front of you.
Next, we will encounter the most challenging section of the trek from Dingboche to Lobuche. This part involves a 1-hour ascent along a zigzagging route, which takes you to the Thukla Pass. After trekking for a few more hours, you will follow the left side of the Khumbu Glacier. As you continue to walk, you will gradually gain some elevation until you reach the small town of Lobuche.
Day 10: Trek to Gorakshep and hike to Kala Pattar (5550m)
To reach Kala Patthar, start by heading north from Gorak Shep along a slightly indistinct path that ascends the southern slope. The path on the screen is well-beaten and easy to follow. You will reach the magnificent summit of Kala Patthar after the 2 hours uphill trail. When you arrive here, take your time and soak in the fantastic surrounding views. After spending a few hours at the summit, it is time to descend to Gorak Shep.
Day 11: Trek from Gorakshep to EBC (5310m) and back to Lobuche
As you depart from Gorak Shep, you will find yourself walking alongside the Khumbu Glacier, with the majestic Everest Mountain Range towering behind it. Upon observation, it becomes evident that this huge glacier is full of dirt and rocks. Over the course of many years, sediments have gradually descended upon it from the neighboring peaks. You will then eventually reach a point where you can get a better view of the Khumbu Icefall.
You will come across Sherpa prayer flags marking the rocky terrain as you continue on your journey. Slowly but surely, you will approach the magnificent icefall. During the final stretch to Everest Base Camp, the trail will turn slightly inward. Once you have enjoyed your time there, you will return to Lobuche.
Day 12: Trek from Lobuche to Lobuche Base Camp
Due to the challenging nature of the trek, we begin our journey early. We travel along a rugged trail that ascends steeply and takes us across the Lobuche Glacier.
As the trail ascends, breathtaking views of Thamserku and Cholatse gradually come into sight, creating a truly magnificent scene. We will eventually reach the base camp after crossing the difficult hilly terrains on foot. Our team members will set up the tent as soon as we arrive at the campsite so that we may spend the night comfortably.
Day 13: Climb to High Camp
We will begin the trek early because the Lobuche high camp terrain is challenging, with steep ascents and descents. We will start our ascent from the base camp and gradually make our way up the trail to Lobuche High Camp. The trail's steep incline presents a continuous uphill challenge, making it quite challenging for hikers.
In order to reach the high camp, we must navigate a rugged path and traverse a narrow lane that is covered with snow. We will use crampons to improve our grip on the snowy trails that lead upward.
Once we ascend the ice cliff using an ice axe and navigate the rugged trail, we will reach the Lobuche High Camp.
Day 14: Climb to the summit (6119m) and back to Lobuche Base camp
The trek to the summit is an incredibly tough and challenging effort, filled with numerous technical difficulties. Due to its length and numerous challenges, we will need to begin our ascent of the mountain before sunrise. We will start by ascending the snowy trail and glacier using an ice axe and rope.
We will march uphill and make our way through the ridge. After hiking steep trails for nearly four hours, we will finally reach the summit. Once we reach the summit, we will be embraced with a breathtaking view of the magnificent Ama Dablam, Cholatse, Thamserku, and Kantega.
We will also be able to see the breathtaking landscapes and glaciers from the summit. We will descend the mountain and return to base camp after a brief sightseeing adventure.
Day 15 : Trek from Lobuche base camp to Pheriche (4270m)
We will continue our journey back to Pheriche. The trail is long, but it gets easier as you descend down the trail. Please take care when walking downhill because it might be slippery and dangerous. As you descend down to the village, the stunning view of snow-capped peaks and majestic hills welcomes you. You will be staying overnight in this village.
Day 16: Trek from Pheriche to Tengboche (3860m)
While ascending Lobuche Peak in Nepal, you may encounter numerous elevation swings even though you will be descending to a lower elevation by the end of the day. The journey starts with a descent from the village, crossing a river, and climbing a valley wall to gain elevation. While hiking alongside the valley, you will eventually reach the point where the path you took earlier connects with your current route.
During this section of the trail, you will gradually descend and continuously lose elevation as you hike downhill. After hiking for a while, you will arrive at the village of Pangboche. After departing from Pangboche, you will proceed downhill through the valley and then cross a suspension bridge to reach the opposite side of the river. The terrain will become flatter for a short distance before transitioning into a more challenging incline section between the small village of Deboche and the village of Tengboche.
Day 17: Trekking from Tengboche to Namche (3440m)
After departing from Tengboche, you begin on a challenging descent characterized by steep terrain, technical sections, and a zigzagging path. As you continue down the trail, you will pass through more trees, creating a forested setting. The trail will start to be zigzag, which takes you upwards. After some moments, the trail eventually leads you back onto the easier path that will take you to Namche Bazaar.
As you walk along the carved path into the valley, you will be welcomed with the breathtaking view. Below you, the river flows gracefully, while behind you, the majestic peaks of Everest and Ama Dablam stand tall.
The path will eventually lead you inside as you continue to lower it. From there, you will be greeted with breathtaking views of Namche Bazaar from above as you make your descent into the town.
Day 18: Trek from Namche to Lukla (2840m)
You will descend the stone steps to reach the bottom of Namche village. From there, the path will continue downwards. You will navigate a combination of stone steps and dirt pathways. As you journey through quaint villages and admire the Sherpa stones, you will eventually return to the village of Phakding.
The route will not be overly technical, but you will encounter multiple sections of stairs. Before reaching Lukla, you will encounter a few additional small villages along the way.
Day 19: Fly back to Kathmandu (1350m)
As you complete the Lobuche Peak Climbing in Nepal, It is now time to wave goodbye to the Everest region and begin your journey towards Kathmandu.
You will have the chance to witness amazing panoramas of snow-capped mountains, charming farmland terraces, and other breathtaking scenery during the flight. You will bring back to Kathmandu not only fond memories of the trek but also an overwhelming feeling of success and the serene beauty of the Everest region.
Day 20: Free day for shopping or relaxing
After the thrilling Lobuche peak climbing and the flight back to Kathmandu, it is time to have some activities that allow you to chill out and relax. You get to have a free day today, so you may take your time and discover Kathmandu at your own pace.
The day is yours to spend exploring bustling markets, engaging in some shopping, and engaging yourself in the local way in Kathmandu. These markets offer a wide range of cultural artifacts, beautifully crafted handmade items, and unique local specialties.
Kathmandu is a wonderful destination for souvenir shopping, offering a wide range of options to remember your Himalayan adventure.
Day 21: Departure Transfer
As your time in the city of Kathmandu draws to a close, it is time to say goodbye and go on your departure transfer. Whether you are returning home or going on your next thrilling adventure, the journey continues. Pause for a moment and cherish the memories of the awe-inspiring Himalayas and the vibrant experiences you encountered while Lobuche Peak climbing in Nepal.
Includes/Excludes
What's Included?
All ground transportation with private vehicle.
Four Night Five Star Hotel accommodation in Kathmandu.
Welcome dinner and farewell Nepali culture dinner with office staff.
Kathmandu-Lukla-Kathmandu airfare.
Three excellent meals a day during trekking & at Basecamp.
All required permits, National Park entry permit.
Basecamp staffs: Basecamp Cooks & Kitchen Assistants.
Waste management: Stool transfer, garbage deposit fees.
Porters: Porters up to and back from Basecamp.
Walkie Talkie for Sherpa.
Emergency satellite phone.
Basecamp setups: Sleeping tent, Kitchen Tent, Toilet.
Staff salary and allowances: All staffs & porters' daily wages/ equipment/ food/ clothing and personal insurances (Medical & Emergency rescue insurance)
Member luggage: 20kg per member.
High camp setups: High Camp tents for Member and High-Altitude Sherpa, Essential cooking equipment, high altitude foods and gears.
One Kabru Adventure Holidays Sherpa guide for three members (1:3 guide to client ratio)
What's Excluded?
Airfare International and Nepalese visa fee.
Lunch & Dinner in Kathmandu.
Extra night in Kathmandu: Any Extra night accommodation in Kathmandu for any reason including in case of an early arrival or late departure, early return from the expedition (due to any reason) than the scheduled itinerary.
Insurance: Travel and High-Altitude Insurance /Accident / Medical / emergency evacuation.
Summit bonus tips: Minimum USD 250 (mandatory). In case you do not summit, please discuss with expedition leader on expected tips to give.
Please calculate some tips for Basecamp staffs & porters. For Porters tips, please speak to the active guide looking after you. For Basecamp staff recommended USD 200.
The full set of members personal climbing gears and clothing.
Any other items not listed in the "Price includes" section.
Emergency Helicopter Rescue from the trekking area.
Trip Difficulty of Lobuche Peak Climbing
Lobuche Peak climbing in Nepal is considered to be one of the most challenging peaks to climb in the Everest region of Nepal. We ascend to heights above 5000 meters, a significantly elevated altitude where no form of life can survive. Although this peak is not particularly technical, it reaches an altitude of over 5000 meters. It is an extremely high elevation where survival is nearly impossible.
The temperature is low, and the weather is quite unpredictable. The thinness of the air presents a challenge for our ascent. Properly acclimatizing your body before reaching the summit is important.
Although Lobuche Peak climbing is known for its challenging nature, a successful ascent can be achieved through consistent practice, proper acclimatization, strong physical stamina, and a determined mindset. Climbing through a challenging and rugged topographical terrain is necessary.
Therefore, it is crucial to prepare for climbing adequately. In order to acclimate to Lobuche Peak, we plan to walk from Lukla to Phakding and then gradually ascend. The next day, we proceed to Lobuche Base Camp and began our ascent to the peak. Prior to ascending the Lobuche West Peak, our team will receive crucial mountaineering preparation from our experienced Sherpa guide.
Recommended Best Seasons for Lobuche Peak Climbing
The best seasons for Lobuche Peak Climbing in Nepal are spring and autumn. During these times, the weather is typically balanced and stable, offering clear skies. However, Nepal's topography and climate are quite complex, which adds further depth to the topic.
Lobuche Peak attracts a growing number of tourists during both winter and summer seasons and for a meaningful purpose. Nepal is a fantastic year-round destination when you have the right knowledge, travel plan, and preparation.
Spring and autumn are the two main trekking seasons in Nepal. Spring is particularly popular due to its stable weather, which provides the perfect environment for classic treks in Nepal that involve high pass crossings.
One disadvantage of spring is that the skies can occasionally become hazy, which may block the beautiful mountain views. You are going to meet tourists from all around the world because the trekking routes are frequently crowded. Some might consider this as a benefit, but others may see it as a disadvantage and prefer to have the natural surroundings all to themselves.
Another best hiking season in Nepal is considered as in autumn. An excellent chance to immerse oneself in Nepal's rich cultural history is also provided there. There are numerous festivals available. Nature is adorned with vibrant colors as if everything has been freshly washed.
The vegetation flourishes greatly during the monsoon season. The exceptional conditions attract a large number of people from around the world, resulting in busy trails and crowded teahouses.
Food and Accommodation during the trip
If you are curious about accommodations and meals during Lobuche Peak Climbing in Nepal, we can provide tents and lodging options. Climbing can be enjoyed at well-maintained inns operated by local residents.
Every hotel has a main public area with a fireplace, but the bedrooms do not have heating facilities. Rooms are available with beds, mattresses, blankets, and pillows. The showers are typically powered by gas, and some still use the iconic 'drop' toilets, but most now have flush systems.
The meals provided during the Lobuche Peak Climbing are excellent, offering a delightful combination of local Nepali/Sherpa cuisine and Western dishes. There are also several cafes that offer a variety of drinks, snacks, sweets, and chocolate.
The most challenging task could be avoiding consuming junk food and following a simple diet. We will be sleeping in mountain tents, which are designed to accommodate humans like regular tents.
In addition to a high-quality sleeping mat, we use a four-season sleeping bag. To prevent overheating, consider using a sleeping bag liner when sleeping in an open-zipped four-season bag.
The porters are available to transport your essential baggage weighing up to 15 kg. You will have both a guide and a mountaineering sherpa accompanying you throughout the entire Lobuche peak climbing trip. Our experienced team ensures your safety and satisfaction in high altitudes.
Altitude Sickness
During this climbing trip, you will traverse various altitudes, beginning from Kathmandu and ultimately reaching the highest point at an elevation of 6119 meters. It suggests that you have a greater chance of developing symptoms of high altitude. To avoid altitude sickness, a good amount of rest and enough time for acclimatization is necessary.
You could have symptoms including nausea, vomiting, shortness of breath, insomnia, appetite loss, and other health problems. Physical fitness is important, and regular physical activity gives you important health and mental benefits during your thrilling Lobuche peak climbing journey.
To adequately prepare for your Lobuche Peak Climbing trip, it is crucial to engage in physical training for a period of three to four months. Using a weighted backpack can be beneficial for enhancing stamina and improving your ability to walk on hills effortlessly. If you have not engaged in any high-altitude trekking before, you may need to increase your training efforts.
To ensure a safe and successful ascent of Lobuche Peak, it is crucial that one maintain excellent health through proper breathing techniques, maintaining a low heart rate, staying well-hydrated, pacing oneself effectively, and having great stamina.
Additionally, you will develop excellent stamina, allowing you to navigate uphill and downhill terrain with ease while carrying a weighted backpack at high altitudes. We are here to provide you with guidance and support as you prepare for your Lobuche Peak climbing in Nepal. Our team will always be enthusiastic about helping you and ensuring that you are well-prepared for the climb.
Group and Private Climbing
We offer both group and private trips for Lobuche Peak Climbing in Nepal. If you have ever thought about planning a private or group vacation to Nepal, we are here to assist you. We have a specialization in providing private group tours and trekking experiences for travelers.
Our private trip is carefully planned to give you a unique, individual experience. Nepal has a lot of beautiful scenery, from mighty snow-capped mountains to lush woods. You can also learn about the country's rich cultural history.
Our private trip for Lobuche peak climbing is more professional, whose only goal is to make your trip unforgettable. Our goal is to fulfill your expectations and make your trip everything you wanted it to be. This trip has everything carried out just the way you want it. In order for us to create a plan for you that reflects your ideas, please tell us what you want to include during the inquiry.
Personal Expenses during the trip
During trekking, phone communication depends on NTC and NCELL SIM cards. Users are required to purchase recharge cards in order to obtain credit. Although the cost of calls is reasonable, trekking packages do not include coverage for them. Guesthouses offer Wi-Fi access for an additional fee, ranging from NPR 100 to NPR 300. Tea houses typically require a fee for battery charging, which usually ranges from Rs. 100 to 350.
Hot showers in lower areas are provided free of charge, while gas showers in high-altitude regions can be quite expensive, ranging from NPR 150 to 450. This higher cost is primarily due to the transportation challenges associated with delivering gas to these remote locations.
If you require additional porter services beyond what is already provided, please note that there will be an additional charge for the extra support. Trekking also offers opportunities for voluntary donations to schools and monasteries. However, it's important to note that these donations are not included in the overall expenses and must be covered as personal expenses.
Climbing route for Lobuche Peak
The Lobuche Peak Climbing adventure in Nepal begins in Kathmandu, where you will take a short 35-minute flight to Lukla. We will journey from Phakding to Namche Bazaar, passing through a series of charming settlements, such as Tengboche and Pheriche, before reaching our destination of Lobuche. Along the way, we will encounter a variety of lodges and hotels that offer comfortable accommodations.
The route from the high camp becomes slushier as we continue. We will need to cross the rocky slab using the roper. The route then passes through a narrow, icy ridge, which is considered a technically challenging section of this expedition.
As we reach the Lobuche summit, we are greeted by the sight of fluttering flags. Our journey continues as we make our way back to Lukla, and finally, we conclude our peaceful trip with a memorial flight back to Kathmandu.
Travel Insurance
Trekking in high altitudes can be challenging due to the rapidly changing weather conditions. Therefore, it is essential to have sufficient insurance coverage when undertaking Lobuche Peak Climbing. It is important to have travel insurance or emergency evacuation insurance that can cover the cost of high-altitude evacuations during the trek if needed.
Before starting the trek, you should provide a copy of their insurance. The insurance policy should include coverage for helicopter rescue up to 6,000 meters, in addition to covering the costs of treatment. It is important because the trekking regions lack sufficient healthcare facilities. After booking the trek, we kindly ask trekkers to provide us with their detailed insurance information.
Emergency Rescue during Lobuche Peak Climbing
In Nepal, helicopter evacuations are commonly used to manage emergencies, and there is typically a well-established infrastructure in place to handle logistics. Incidents are rare, and Lobuche Peak is located in a well-supported area of Nepal, which includes the presence of the Himalayan Rescue Center in Pheriche.
It is important to consider both time and distance when planning any activities in this area. The primary cause for the delay of helicopter resources is inclement weather conditions. It is important to understand that self-sufficiency and self-control are necessary in the mountains.
Reviews on Lobuche Peak Climbing
Be first to post a review in this trip.